Niland: A desert getaway off the beaten track
Enjoy recreation, relaxation and reconnection in the California desert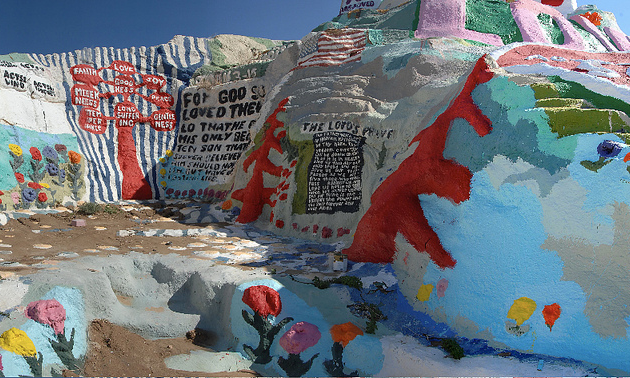 Located on the southeastern tip of the Salton Sea, Niland and its surrounding areas give couples a chance to find recreation, relaxation and reconnection all in one great adventure.
Imperial Sand Dunes
Offering up the tallest sand dunes in California, some of which reach heights of 400 feet, the Imperial Sand Dunes is a mecca for adventurers of every sort. Whether you choose to ride the waves of the sand dunes with your arms clasped around your partner's waist as you hang on for dear life or enjoy the ride side by side in a dune buggy with Dezert Adventures, the choice of adventures is yours. You can rent one of the company's dirt bikes, ATVs or dune buggies and use one of their trailers to transfer the equipment to the desert destination of your choice, or have them drop off and pick up the equipment for you. Choose one of their guided tours or head out on your own, just the two of you. No guide, no trail—just wide open country and each other.
The Salton Sea Mud Pots
Recapture the fun of exploring at the Salton Sea Mud Pots. Made up of many still-erupting small mud volcanoes called gryphons, a much kinder and gentler version of their molten-lava-spewing cousins, the mud pots are a unique experience that's meant to be shared. For some, the adventure starts as they try to find this out-of-the-way spot halfway between Niland and Calapatria. Simply head west on Schrimpf Road (a challenging dirt road), take a right onto Davis and go about 50 feet. You'll start to hear the rumbling, popping and fizzing of the mud pots almost immediately. Experience one of the earth's great geothermal mysteries and snap some great photos all at the same time. Be sure to wear close-toed shoes and heed the warnings of the many who have visited to be aware of your surroundings at all times. You never know when one of these very active little mud volcanoes will blow.
Fountain of Youth Spa RV Resort
What better place to recapture the love you experienced in your youth than the Fountain of Youth itself. Catering to the 55-plus crowd, this relaxing getaway also welcomes visitors of any age. It's the perfect place to stay whether you're looking for a hub of bustling activities, some easy quadding and hiking straight from the site which lies adjacent to the desert, or you're looking to relax in the waters. With two large swimming pool areas, an artesian mineral hot spa, three fresh water hot spas and an oversized waterfall spa, plenty of relaxation and rejuvenation can be found. Group activities to join in include bocce ball, horseshoes and ping pong. Or after taking a relaxing dip, head over to the twice-weekly nearby farmers' market, followed by a shared treat at Freddie's Fountain Cafe and a night back at the resort dancing cheek-to-cheek.
The Rock Coffee Shop and Cafe
A short drive south of Niland will bring you to the nearby community of Brawley. Here in you'll be pleasantly surprised to find a comfy and cozy coffee shop that's becoming known across the desert as one of the best places to cater to the coffee culture elite. It offers rich, smooth, flavourful coffee and tasty choices for both breakfast and lunch, including delicious freshly made burgers from locally sourced beef, as well as a number of vegan and vegetarian options. But it's the chance to share one of their many freshly-baked treats that keep couples coming back for more. With cookies the size of your palm and tantalizing aromas that fill the air, this delightful little eatery is the perfect spot for an afternoon date and pick-me-up before you head out on your next adventure.
Salvation Mountain
A strange and decidedly different place far off the beaten track, Salvation Mountain is a campy, quirky and colourful attraction that is not to be missed. A man-made mountain borne out of love, it is a plastered, painted and carved masterpiece dedicated to God that will have even those of little faith believing in its message of love and acceptance. Standing 50 feet high and spanning 150 feet in width, Salvation Mountain was created from a mixture of local adobe clay and donated paint. It's the perfect place to just sit back and hug the one you love. Featured in documentary films and countless articles, it's a colourful and bright contrast to the otherwise monochromatic desert that will leave you feeling just a little bit more spiritually awakened than when you arrived.