The No. 1 small arts town in Canada is decked out for Canada's big birthday
If you have an eye for art, you owe it to yourself to be inspired by the imagination of Nelson, B.C.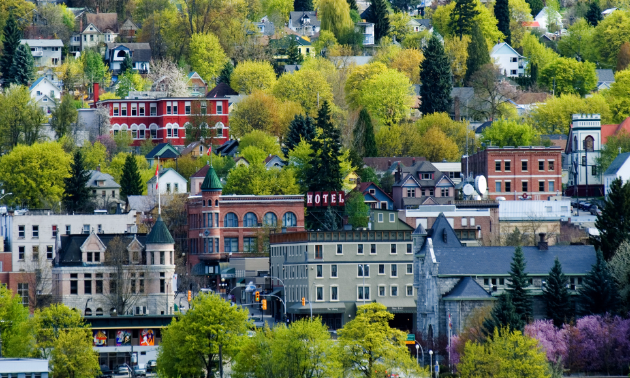 If visual art and exercise are part of your RV agenda this summer, Nelson should be your first stop.
The city holds over 350 heritage homes dating back to its early silver rush days, a restored and operating streetcar, and an incredibly vibrant arts scene and small business community. Nelson has earned the title of number one small arts town in Canada from the publication The 100 Best Small Art Towns In America. The city is also great for outdoor activities like hiking, rock climbing and mountain biking should you feel the need to stretch your legs.
History
The settlement of Nelson was founded in 1888 with the City of Nelson being incorporated in 1897. Nelson is named after the then Lieutenant-Governor of B.C., Hugh Nelson.
During the city's infancy, disastrous fires prompted Nelson's first city council to pass a bylaw requiring all buildings in the downtown core to be built of noncombustible materials. This led to the construction of the classic brick and stone Victorian structures that showcase Nelson's downtown core.
After the short-lived silver mining boom, the forest industry became the largest employer for Nelson residents. Since then, Nelson has become the commercial and government centre of the region.
Summer art extravaganza
Nelson hosts Art Walks during the summer months, which highlight local artists' work in shops. The summer-long celebration allows visitors to see unique art on the walls of participating businesses.
Nelson will be hosting Market Fests this summer on July 28 and August 25. Downtown Baker Street will be transformed into a lively night market featuring 100 vendors, selling handmade items you'd expect to find in such an artistic community: jewelry, clothing, pottery and health products. The streets will also be filled with live music, dance performances and kids' entertainment.
Canada Day
If you're able to make it to Nelson for Canada's birthday, you'll be treated to celebrations at Lakeside Park with live music, birthday cake, a sandcastle contest, family-orientated activities, free streetcar rides and fireworks.
Catch a glimpse of old-time history and newfound art this summer in Nelson, the creative Kootenay city.