The water's fine in Nanaimo
The Harbour City is brimming with fabulous options to get out on or into the water—whether you love oceans or lakes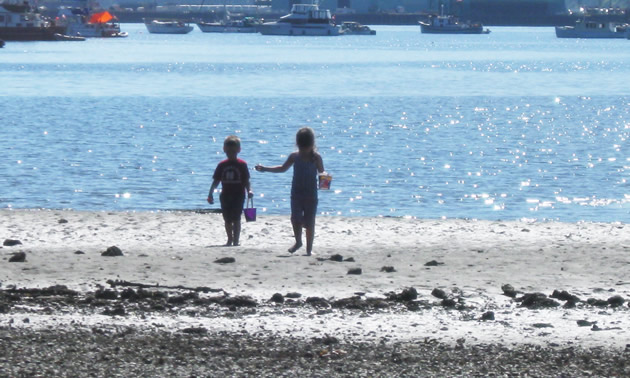 In a place nicknamed the Harbour City, it is not difficult to find something fun to do on the water. Swim, snorkel, kayak, water-ski or boat the days away on the ocean or on one of the many beautiful inland lakes near Nanaimo, the Harbour City.
Nanaimo was settled in 1853 around the waterfront, which has remained the hub of the city. The connection to the ocean and other waterways has evolved over the years to include a strong emphasis on recreation, locals and visitors are lured year round to some of the best beaches on central Vancouver Island.
Swy-a-Lana Lagoon
Nestled in the heart of Nanaimo's downtown is Maffeo Sutton Park, and within the park is Swy-a-lana Lagoon—the world's first human-made tidal lagoon and the only one in Canada. Its small, sandy beach is a favourite for locals and travellers because it is warmer than the adjacent ocean; it is enclosed for safety, and lies right next to an enormous playground and grassy fields for daydreaming or throwing a ball around. Just beyond its reach, under a pedestrian bridge and along a curving pathway, is the ferry dock to Newcastle Island Marine Provincial Park and Protection Island—home of Canada's only floating pub.
Newcastle Island Marine Provincial Park
Just a 10-minute boat ride from Maffeo Sutton Park is Newcastle Island Marine Provincial Park, a small island surrounded by sandy, exposed rock beaches that are accessible along more than seven kilometres of chipped trails. The island is accessible by boat only, and no cars are allowed. Newcastle Island is also a favourite destination for novice kayakers or those looking for a relaxing evening paddle. The waters around the island are sheltered and relatively calm, and the scenery is stunning.
Westwood Lake
A favourite inland swimming, canoeing and fishing spot just minutes west of the Nanaimo Parkway is Westwood Lake—a man-made lake with two stretches of sandy beach. A small playground and picnic area invite leisurely afternoons under the trees, and the 6.1-kilometre trail encircling the lake is a favourite route for runners, dog walkers and hikers. The adjacent Westwood Lake RV, Camping, and Cabins is a full-service site for anyone who wants to enjoy the lush beauty of the forest only minutes from town.
Long Lake
Long Lake is a refreshing place to cool off and relax—it lies right in the middle of town just off the Old Island Highway. The lake is home to the Nanaimo Canoe and Kayak Club, and is also a favourite motorboating and water-skiing spot. It has a sandy beach and a playground, as well as shaded areas for picnicking.
Piper's Lagoon & Neck Point Park
The best ocean swimming around is at Piper's Lagoon and Neck Point Park, just half a kilometre from each other midway across town off Hammond Bay Road. Both parks offer beautiful winding trails and easy, child-friendly bouldering along the ocean front. The main path at Piper's Lagoon follows an exposed sandy beach, and trails that branch off in both directions lead to smaller, sheltered rock and shell beaches that are great for swimming or launching a kayak. At Neck Point Park, the trails are more extensive and wind along the water and inland. There are a few sets of stairs at this park, making it less stroller-friendly than some.
For more information about the parks in and around Nanaimo, go to the City of Nanaimo website.