Preserving a piece of the past
Morden Mine is an old coal mine in Nanaimo where visitors can see unique concrete remains
by Lisa Crane —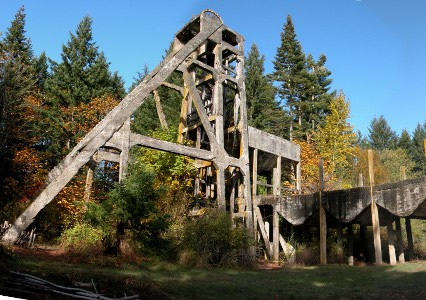 Those with an interest in mining and history should visit Morden Colliery Historic Provincial Park in South Wellington, just south of Nanaimo, British Columbia. The park houses the remains of the Morden coal mine, which was first excavated in 1912.
David Gogo is the president of Friends of the Morden Mine (FOMM), a non-profit organization that is committed to preserving the above-ground remains of the historic mine.
Gogo, whose family has lived in the area since 1897, said the society is trying to preserve this structure because it is unique.
"As far as we know, it is the last remaining coal mining head frame and tipple of its kind in the world," said Gogo. "The only reason it is still around is because it was made of concrete, which was very unique at the time."
At many old mine sites, Gogo said, visitors can only read about the site because the structures are long gone. Here, they can see the concrete remains.
He said the mine is literally two minutes from the highway and is very easy to get to.
"Visitors can expect to see the ruins of the head frame and tipple of the mine, with signage that explains some of the history," said Gogo. "There is also a wonderful walk on the former railway down to the Nanaimo River."
FOMM would like to see the site become a major cultural tourist attraction and interpretive centre for early coal mining. Restoration of the site is also urgently needed to prevent the structures from further deterioration.
"The site could be an educational and interpretive centre that celebrates the history of the island," said Gogo.
FOMM offers tours of the site; details are available on the website.