From mountains to beach Nanaimo offers photographers great shots
Watch for interesting flora, sparkling water shots, and curious wildlife among Nanaimo's natural wonders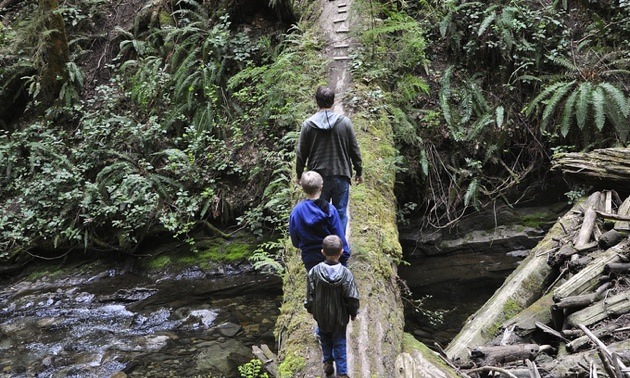 Mount Benson
Towering over Nanaimo, Mount Benson is a 1,019-metre forested mountain offering stunning views of the Strait of Georgia and the Coast Mountains. The well-marked trail offers a winding adventure through the temperate rainforest, with several lookouts that will not disappoint.
How to get there: To get to Mount Benson from the Nanaimo Parkway BC-19N, take the Jinglepot-Third Street exit to Kilpatrick. Turn right onto Bensonview Road and follow it to the parking lot at Witchcraft Lake, or to the end and park on the roadside.
Photo tips: The trail can be busy, especially in the summer months, which can make it hard to capture photos with more scenery than tourists, said local photographer Lisa Pedscalny. She recommends visiting Mount Benson in the late afternoon in June or July to ensure lighter traffic on the trail and at the summit, and to catch a glimpse of some fascinating flora.
"Watch for mycotrophic fungus flowers called a pinesap or Dutchman's pipe (Monotropa hypopitys), which only bloom for a short period throughout the year," she said.
Robert's Roost
Robert's Roost is a large protrusion located on Mount Benson's ocean-facing slope, and is one of Nanaimo's best kept hiking secrets. It takes some skill to reach the Roost, but its scenic views of everything from Newcastle Island to Ladysmith make it worth the effort.
How to get there: The trail begins at Morrell Sanctuary, which is located just off of the Nanaimo Parkway BC-19N. Take the Fifth Street exit from the parkway and turn right on Wakesiah. Turn right onto Nanaimo Lakes Road and watch for the signs on your right. Follow this link for detailed trail directions from the Morrell trailhead to Robert's Roost
Photo tips: One of the most important factors to consider when taking photos anywhere is light, said Pedscalny. Since outdoor photography involves fluctuating light availability, it's important to work with the light and never against it.
"For example, when taking a photograph along a forest trail the difference between amazing light and unworkable light may only be a step away," she said. "Lean left and right, and try shooting from different height levels to capitalize on the light you have to work with."
Similarly, rotating a half turn to change where the sun is in relation to your landscape can result in a much more vibrant and colourful photograph.
Benson Creek Falls Regional Park
This 22-acre park on the western slope of Nanaimo's Mount Benson offers two picturesque waterfalls and steep ravines through a heavily wooded rough trail system. It is the essence of West Coast natural beauty, with postcard photo opportunities around every corner.
How to get there: From the Nanaimo Parkway BC-19A, turn on to Jinglepot at the Jinglepot-Mostar exit and then make an immediate right onto Biggs Road. Biggs will merge with Weigles Road, and the park is on your left. Click here for a map
Photo tips: When it comes to interesting photographs, your perspective is as important as your subject matter.
"Along the many trails in this stunning park you will encounter countless fungi, plant life, creeks, and streams, so experiment with shooting from different angles and perspectives," said Pedscalny. "Try shooting from close range and below your subject or from up above."
When photographing flowing water, try slowing down your shutter speed just a bit and getting down closer to the water level for a lovely, soft, in-motion effect, she adds.
Piper's Lagoon
Built on a point that extends to the ocean, creating a lovely rocky beach and several natural bays, Piper's Lagoon is the ideal place to capture sunsets and sunrises.
How to get there: Follow the Trans Canada Highway (Highway 1) into Nanaimo. Turn right onto Departure Bay Road. Turn right again onto Hammond Bay Road and watch for the signs on the right.
Photo tips: Whenever photographing near a body of water or somewhere where you have a clear line between land and water or water and sky, it is vital to be aware of your horizon line— even if the subject of your photograph is in the foreground and the horizon is in the background. Many potentially amazing photos have been compromised because the photographer forgets to ensure the horizon is straight, and a crooked horizon can often result in a photo generally seeming "off."