A place to get away
Tucked on the Arrow Lakes, Nakusp is a destination gem for those who want to both relax and explore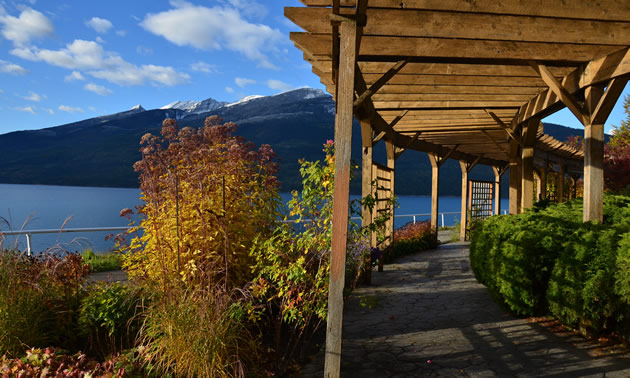 Nakusp, located on the Upper Arrow Lake in B.C., is an ideal destination for RVers looking to get off the road well travelled while also exploring an outdoor paradise and finding a place to relax. Early in the summer of 2014 a larger ferry started service for those coming from Revelstoke to cross Arrow Lake from Shelter Bay to Galena Bay. Nakusp is also a part of the new initiative, West Koot Route. Together with the Kaslo and Slocan Valley chambers, the West Koot Route invites travellers to discover the three picturesque valleys at their own pace.
There are lots of places to play outside in Nakusp. Visitors might want to try horseback trail riding, and hiking and biking are favourite activities—bikes are available to rent downtown.
"We have really good hiking trails," said Peter Welkerling, president of the Nakusp Chamber of Commerce. "You can hike up to the hot springs on a really nice trail and can cross an award-winning new bridge—it's a timber-frame construction . . . We also have a railway bed that goes by Nakusp and you can bike from here down to New Denver."
With an abundance of lakes, fishing is a popular pastime. There is also a beautiful public beach in town with volleyball nets, washrooms and a playground. For a more relaxed pace visitors will want to stroll down the waterfront walkway.
"The waterfront walkway is a very nice, really well-maintained area," said Welkerling. "It's kind of a Japanese garden theme. It's a paved walkway . . . with beautiful views and you can enjoy different flowers and a sculpture (that we have) there."
Of course, a visit to Nakusp wouldn't be complete without a stop at its hot springs. The Nakusp Hot Springs are up in the mountains, feature an enjoyable drive and have campsites available. The Halcyon Hot Springs overlook the lake and also feature a relaxing spa.
"(Nakusp) is very relaxed and laid back," said Welkerling. "There's a friendly atmosphere in town—kind of a small-town atmosphere. We don't have traffic jams. We hardly even have a traffic light. It just has a cozy feeling to it."