Myrtle Creek attractions
Winery tours, dinner theatre, music in the park and salmon fishing are favourite summer activities here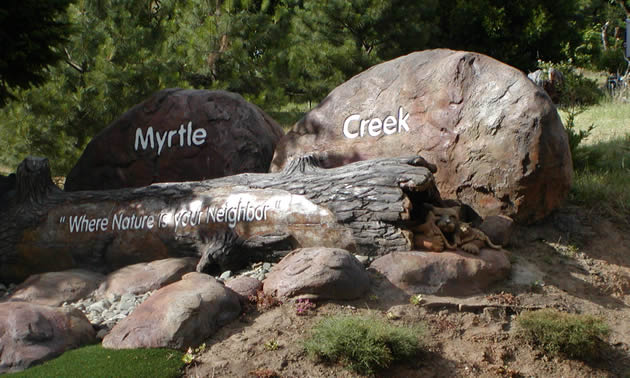 Six covered bridges are among the attractions near Myrtle Creek, in Oregon's Douglas County—making it essential to have your camera at the ready as you explore the countryside. There are upwards of 50 wineries and vineyards within an easy drive of this small city of about 3,500 people—and for visitors who would like to use Myrtle Creek as a home base for day trips, there are plenty of accommodation options: RV parks, campgrounds and bed-and-breakfasts.
Wine country
Several of the area's wineries are small, family-owned operations. Like many of the other south Oregon vineyards, Pyrenees Vineyard & Cellars—located on the South Umpqua River and the only vineyard actually in the Myrtle Creek zip code area—offers wine tastings and tours of the vineyard and winemaking facility. Pyrenees encourages visitors to bring a picnic lunch to enjoy along with samples of wines and the beautiful views.
"We have a beautiful 150-foot riverview deck that our wine club members and wine tasters can come and enjoy," said Katie Shook, office manager of Pyrenees. "We have 18 acres in grapes at this location and about 12 acres at our newer location near Roseburg. We produce about 10,000 cases of wine annually, using all of our own fruit and buying a little more from neighbouring Oregon growers."
Nature, history and culture
Back in Myrtle Creek, beautiful Mill Site Park is like a jewel at the centre of town, with flowerbeds and benches, meandering pathways, a fountain and a veterans' memorial. Myrtle Creek itself—featuring Horse Creek Covered Bridge—borders the park on one side, with the city's RV park on another. Every July and August, Mill Site Park's free Music in the Park series attracts a large audience. Just a couple of miles away, in a converted church now called The Grand Victorian, director Pamela Shepherd hosts popular dinner theatre productions year round.
Add some adventure
Golf courses, guided river rafting excursions, salmon fishing, performing arts events, wildlife centres, hiking and biking trails and winery tours are among the summertime activities available to visitors in Myrtle Creek. For those interested in an active nightlife, nearby Seven Feathers Casino Resort offers restaurants, concerts, a cabaret lounge and gaming.