Top things to see and do in Mesquite
Mesquite is a premier golf, gaming and ATVing destination
by Karen Kornelsen —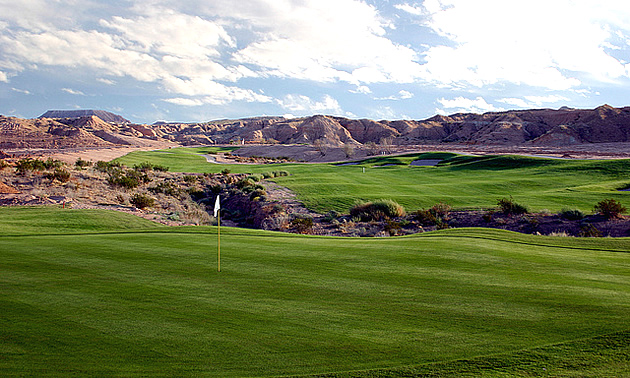 A trip to Mesquite, Nevada would not be complete without exploring these top activities and attractions.
1. Golfing
Mesquite is quickly becoming a major golf destination in the United States. There are nine beautiful courses in the area, two of which were created by pro golfer Arnold Palmer. The Wolf Creek Golf Club was recently rated the 20th most popular in the United States and one of its holes is actually featured on the EA Sports Tiger Woods PGA Tour 2009 game.
2. Gaming
Gaming is a huge part of Mesquite's tourism draw. Two main casinos are packed with entertainment, delicious food and so much more.
Eureka Casino Resort boasts a recently remodeled hotel that offers style and comfort—not to mention a beautifully landscaped pool with cabanas. It also has a wide array of restaurants to choose from, including Gregory's Mesquite Grill, Mason Street Courtyard and Experience. The hotel's casino offers 1,100 of the newest video poker and slot machines along with blackjack and roulette tables. Eureka Casino Resort is also a very popular place for golf outings, weddings and other events.
Casablanca Resort, Casino, Golf and Spa is one of the biggest event venues in Mesquite. It offers a hotel, the best of fine dining at numerous restaurants on site, over 800 slot machines and all your favourite classic games. In 2011 the resort hosted the inaugural Mesquite Balloon Festival, which was received with enthusiasm. Casablanca also offers a full-service spa for those in need of some relaxation, and the resort also acts as a meeting place and a major golf vacation spot.
3. Arts and culture
Between the Mesquite Fine Arts Centre and Gallery, the Mesquite Community Theatre and the Virgin Valley Heritage Museum, there is a booming arts community in Mesquite.
4. Recreational trails
Mesquite offers a paved trail system built within the city limits. It is great for walking, riding your bike or rollerblading.
5. ATV terrain
Mesquite is known as the gateway to Gold Butte, which offers 360,000 acres of public land designated an Area of Critical Environmental Concern by the Bureau of Land Management (BLM). It is just south of Mesquite and boasts some of the best ATVing in the area. There are many petroglyphs and rock formations to be seen here. The BLM asks that ATVers respect the environment by staying on the designated roads.