Get into the swing in this desert playground
Whether you desire a serious adventure or a day of casual fun, this sunny city has what you're looking for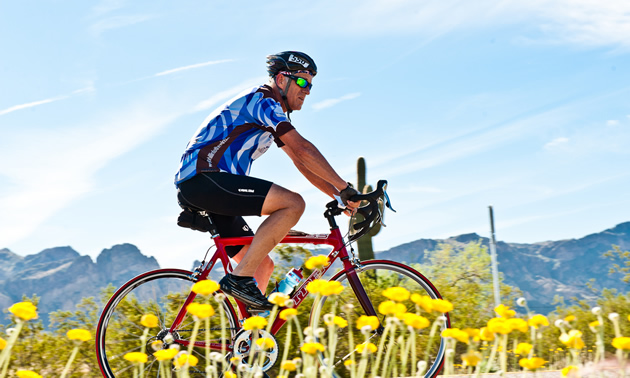 Arizona—it's a land of sunshine, cacti and vivid desert landscapes. When northern temperatures start to drop to uncomfortable lows, heading to Arizona becomes tempting. The reasons are valid. An array of landscapes and plenty of recreational choices makes this an excellent option—not to mention that you can justifiably pack your shorts and sandals.
If you're looking for an Arizona destination, Mesa has a vibe all its own. With easy access to the Sonoran Desert as well as plenty of culture and amenities, Mesa offers the best of both worlds. The only thing you'll miss is the snow and ice—maybe. If you need convincing, check out some of the ways you can keep yourself busy in Mesa.
Discovery through a new nature centre
Do you enjoy coming across something new and exciting—maybe a little outdoor action and an array of option? Then perhaps you should check out the nature centre at Usery Mountain Regional Park. This will prove a worthwhile first stop before you take on the 29-plus miles of trails within the park. Why? The centre will make you think far beyond hiking. You can visit the rooftop garden or think about exploring the park on horseback. You might also consider taking in some of the programming, such as archery, yoga or stargazing—there is nothing like the desert sky at night. Regardless of the time of day, this new facility can help you get acquainted with the area.
The importance of parks around this area cannot be understated. You'll find plenty to explore, whether you're looking for a casual stroll, a moonlit hike or something a little more intense. Convenient day trips to the Grand Canyon are also available to anyone wanting to discover this natural wonder.
If you pack your bicycle along, Mesa will not disappoint. It's been listed as a top cycling centre, thanks to its bike lanes and access to desert bike trails.
Hit the links all winter long
Mesa boasts some of the best golf courses in the southwest; these courses come complete with stunning backdrops and lush greens, delivering a beautiful golfing experience overall. If this is your choice in exercise, you might want to check out Longbow Golf Club, Superstition Golf Club or the Prospector Course. If you're up for a particular challenge, try Las Sendas Golf Club. And there are plenty of other top-notch options.
Be culturally active
If you are in Mesa on a weekend, check to see if MacFest is happening. The Mesa Arts and Culture Festival is held one Saturday each month during the season and will be well worth your while. You can stroll up and down main street and to the Mesa Arts Center while enjoying various performances and live music. Artists will be eager to have you browse their work; this is a great opportunity to choose a special souvenir to take home.
Dancing at Denim and Diamonds
After a full day of discovery, you might just be in the mood to hit the dance floor for the perfect ending. If this sounds like your style, Mesa has just the place. Denim and Diamonds is a nightclub that won't deny you entry if you show up in blue jeans. The venue, open Wednesday through Sunday, is divided into a more traditional country dance floor on one side and live music on the other. Free country dance classes are offered on Saturday evenings.
These just a few suggestions—the options in Mesa really are endless and span everything from learning trapeze to kayaking. Any way you choose to look at it, this city is a great place to get outside and play. For more resources and specifics, you can visit the helpful Mesa Convention & Visitors Bureau. You'll want to make the most of your time in Mesa.