Day trip to Casa Grande Ruins National Monument
Visit one of the largest prehistoric structures ever built in North America.
by Karen Kornelsen —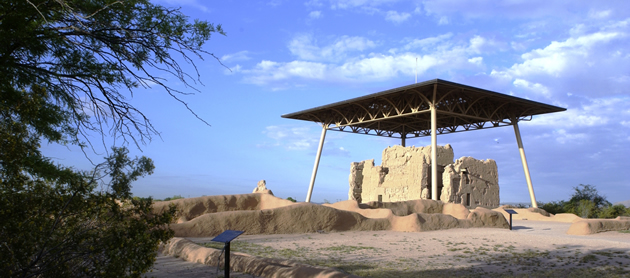 With so many things to do in and around Mesa, Arizona, it's easy to find something you love. There are endless opportunities to shop, golf and experience one of the largest arts and cultural complexes in the Southwest. In the third largest city in Arizona, it's easy to choose your own adventure.
A great idea for a day trip is to visit the Casa Grande Ruins National Monument, just 48 miles away from Mesa. Diane Garcia is a park ranger at Casa Grande Ruins. According to her, this monument is much older than the National Park Service itself.
"The National Park Service is celebrating its 100th anniversary in 2016 and (Casa Grande) became a national monument in 1918," said Garcia. "But we were the first archeological reserve starting in 1892. It's not very large, one square mile, but there's multiple archaeological sites.
"The only one that is excavated and available to tour is what they call the Great House. It's a prehistoric building that's about 700 years old. It's all made out of Calichi mud, which is a calcium-rich mud found in the Sonora Desert."
The Great House is one of the largest prehistoric structures ever built in North America and its purpose remains a mystery. It was also the first cultural and prehistoric site to be protected by the United States government, and was set aside in 1892 by President Benjamin Harrison.
According to the National Park Service, archeologists have discovered evidence that the ancient Sonoran Desert people who built the Casa Grande also developed wide-scale irrigation farming and extensive trade connections, which lasted over 1000 years until about 1450 C.E.
"It's really an engineering marvel," said Garcia.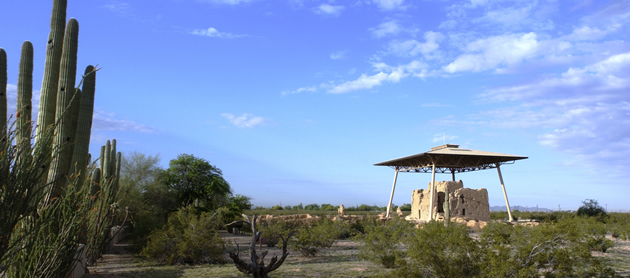 Tours
The Casa Grande Ruins National Monument boasts an impressive visitors' centre, with exhibits featuring artifacts excavated from the site. It also shows an award-winning movie in its theatre.
"The movie won a platinum award in the International Film Festival in Texas," said Garcia, "and in it are interviews with some of the descendents talking about the Great House and its meaning to their people. Visitors can then go out into the compound and tour the Great House."
Volunteer-guided tours run from November to April, and during the rest of the year visitors can do a self-guided tour. There's also a beautiful picnic area on one side of the parking lot.
"Here you can overlook an ancient ball court, which is a pretty neat archeological feature," said Garcia. "They probably played a game more like Hacky Sack than baseball there, but it was certainly a gathering place. There are three covered picnic areas and one has running water and propane, which people can rent."
There are pull-through places for RVs to park and every year the National Park Service will hire up to six RVers to volunteer to give tours and help out with special projects in the fall and winter. The whole site is wheelchair accessible and even has a couple of wheelchairs for visitors to use.
Events
In the fall and winter there are numerous special programs happening in the visitors' centre, from Native American demonstrations to talks about natural foods from the desert. All events can be found on the National Parks Service website.