Top things to see and do in Melville
The city of Melville started out with some big plans for such a little place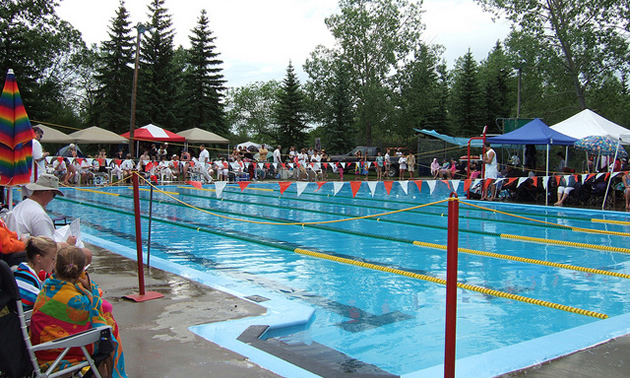 With a population of only 4,600, Melville isn't a very large city. But for history buffs looking to take a step back in time, Melville is as big as it gets.
Melville was founded in 1908 as the midway point between Winnipeg and Vancouver by the Grand Trunk Pacific Railway. The city was named after Sir Charles Melville Hays, who was president of the railway at the time. He was a man who envisioned big things for this little city.
Today, Cary Piller, a retired high school English teacher and local historian, works tirelessly to ensure that Hays' vision of the city is kept alive.
"Melville has a lot of old buildings," she said. "A lot of the interiors have changed, but for many, the outsides are as they were back when they were first built."
1) Pay homage to heritage
There's the Lutheran college, which now serves as the community's museum and is full of artifacts from the early days. The grandly domed city hall that graces Main Street is one of a handful of old buildings that has remained true to its original purpose.
"Our city hall is one of the few buildings of its plan and architecture that has not been museumized," said Piller. "It's still used as it was originally intended: as a seat of governance and for social activities."
But the building houses as secret that even few local residents have ever seen.
"When our city hall was built 100 years ago," said Piller, "it was built with three levels: a basement, a main floor for the offices of the City and a third floor, where an amazing opera house auditorium was built."
Piller said this is one of the finest concert halls in Western Canada. The acoustics, she said, are beyond description and negate the need for microphones.
"It's an amazing building if anybody is interested in the history of it," said Piller. "You just have to have good knees and strong legs to make it up the stairs—but it's worth it."
Piller said tours of the opera house are available; anyone interested can simply ask at the front desk of city hall.
Melville pays homage to its railway origins at the railway museum located in Melville Regional Park. The museum is complete with an old rail car and plenty of artifacts that depict the important role the city played as a hub joining the western provinces.
2) Take a walk in the park
Melville Regional Park lies within the city and is a great place to camp, with electrical sites and access to water. In addition to housing the railway museum, the park also has a pool, ball diamonds, tennis courts, picnic sites and a children's playground.
"Our park is just beautiful," said Piller. "Some people just come here for a week, to spend their vacation in a nice, relaxing spot."
The park is close to the city's 18-hole golf course and is also a great base for exploring the region, including the nearby Qu'Appelle Valley.
"Some people just leave their trailers here and then go and explore nearby Crooked and Round lakes, or even Yorkton," said Piller. "So it's just a nice central location to explore the area from, depending on what you want to do."
The other amenities that make the park so attractive to visitors are the trails that stem in all directions from it, including the Saskatchewan Centennial Trail and a portion of the Trans Canada Trail.
"You could walk our trails and not even make all of them in a day," said Piller. "They're very well maintained and well signed, with benches along the way for when you want to take a rest."
3) Big-city amenities, small-town feel
While Melville doesn't have any big-box-style stores (you'd have to travel 41 kilometres to Yorkton for those), it does have a lot of amenities typical of a smaller city, from a bowling alley and movie theatre to a new $30-million communiplex consisting of a 1,525-seat arena with an NHL-sized ice surface, a 500-seat convention centre, a walking track and a family fitness centre.
Melville also has a place where local artists like to converge.
"We have a community centre which always has art displays and sculptures," said Piller. "It's really a very interesting place to tour. It used to be an old school, but a group of our artists bought it from the city and turned it into a community centre and every room is totally occupied, 24 hours a day, 365 days a year. If you want to have a dance or a do in it you have to book a year in advance. It's really quite an interesting place."
As a whole, said Piller, Melville is really a very well-kept and pretty little place, with a lot of history surrounding it.
"Everything you need for a relaxing stay is here or within easy distance," said Piller. "My husband and I have travelled the world, but for the past 50 years have made Melville our home because all that we need is right here."