Petoskey Motorcoach Resort unveils new exclusive partnership with Sunland
Petoskey Motorcoach Resort and Boyne Resorts are pleased to announce an exclusive partnership.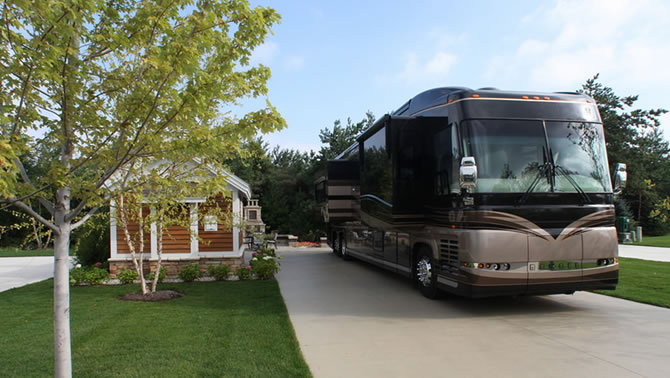 In light of the increasing desire to be part of a community and enjoy exclusive member benefits, Petoskey Motorcoach Resort announces its new partnership with Boyne Resorts' Country Club of Boyne and Bay Harbor Golf Club in Michigan. Petoskey Motorcoach—an industry leader—will now be the first Motorcoach Resort to offer owners membership benefits at Boyne Resorts.
"Petoskey owners automatically receive Social Membership to Country Club of Boyne—providing member-only pricing at spas, restaurants, shops, and more. Additionally, owners have the opportunity to join Bay Harbor Golf Club and participate in member-only tournaments, social events, plus access to 13 world-class golf courses," says Kathy Boyer, director of membership for Country Club of Boyne and Bay Harbor Golf Club.
"Petoskey Motorcoach is the only Class A motorcoach resort partnered with Boyne Resorts, offering owners the best four-season lifestyle and recreational experience," she adds. "The new benefits provide a one-of-a-kind experience that owners will not be able to find anywhere else," states Greg Sidoroff, VP of assets and acquisitions at Sunland RV Resorts.
Not only will owners enjoy the benefits of a resort community, but also "spectacular golf, scenic vistas, spas, eclectic and upscale dining, swimming pools and tennis courts," Boyer says.
Those interested in the exclusive ownership benefits of an RV lot at Petoskey Motorcoach should visit PetoskeyMotorcoachResort.com or call (888) 366-2666 today. Petoskey Motorcoach Resort is located at 5505 Charlevoix Avenue, Petoskey, Michigan 49770.
About Sunland RV Resorts
Sunland RV Resorts was founded in 1985 housing its corporate headquarters in La Jolla, California. Sunland manages a total of 10 resorts, seven in California, one in Michigan and two in Florida.