Sell More RVs by Closing throughout your presentation
Listen to our Webinar Audio File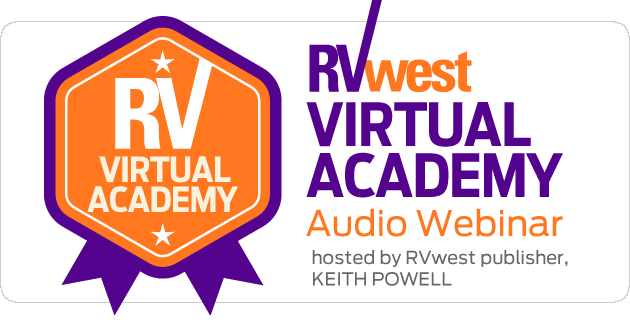 Highlights from April 7th, Webinar: How to sell more RVs by Closing throughout Your Presentation
Host: Keith Powell, RVwest Publisher.
Guest: Mike Whitty, RV Sales Trainer.
< Audio player goes here > Link to audio file of Webinar
Here is a summary of the April 7th Webinar by RVwest – RV Sales Tune Up II
1) Getting ready to close

2) Close during the greeting
Hand out your business card
Smile and open the door
Acknowledge everyone
Take the customer to your desk
3) Close during the qualifying
The wisdom of using common courtesies
Asking the "What's important to you" questions
Handling the trade-in question
4) Close during the presentation
Watch your tone of voice, hand gestures, eye contact, words and phrases, enthusiasm
Don't sell features, sell what features will do for them
Use trail closes
5) Close during the negotiations
Summarize what took place so far
Concentrate on monthly payment price
Ask "why" when they give an objection
6) Close during the follow up
What makes me different with my followup
Follow up within 24 hours.
If you haven't taken advantage of Mike's RV Sales Manager Toolkit $149 offer, visit rvsalesmanager.net/rvwest
Mike Whitty: One of North America's Best RV Sales Trainers Mike has been training RV dealership salespeople and managers for over 26 years. He has received national acclaim for his training techniques, communication skills and development of training tools. Mike conducts seminars and workshops for manufacturers, for retail dealers and for vehicle satellite training networks. His publications have been purchased by manufacturers, dealers, managers and salespeople, and are widely popular because of the easy and practical way they help improve dealership sales and management. Mike has been a speaker at several conventions, including the National Auto Dealers Association and the Recreational Vehicle Dealers Association conventions.