First Quarter sees record financial results for CanaDream
The company's core business is seasonal in nature, with the majority of revenue earned in the period from May to October.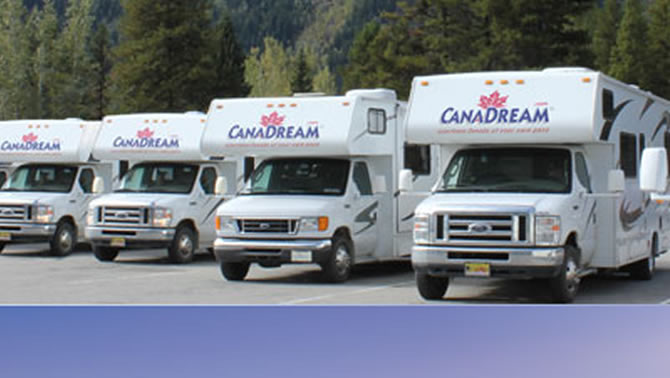 CanaDream Corporation (CDN) today announced record financial results for the three months ended July 31, 2015, as follows:
Revenues for the three months ended July 31, 2015 were $14.2 million, net and comprehensive income $3.3 million, and cash flow provided by operating activities $12.0 million.
The Company encourages interested parties to access CanaDream Corporation's Management Discussion and Analysis (MD&A) on the SEDAR website, www.sedar.com, for a more detailed discussion of these results.
For the three months period ended July 31, 2015, CanaDream recorded net and comprehensive income of $3.3 million, a 19% increase from the prior period. Cash flow provided by operating activities of $12.0 million decreased $294,890, or 2%, from the prior period. On a fully diluted basis, earnings per share were 17.1 cents which was an 18% increase from the prior period.
Total revenue of $14.2 million increased 14% - Guest revenue increased 20% due to increased Guest fleet utilization and higher average nightly revenue. Fleet sales revenue decreased 2% due to a lower volume of unit sales of Guest fleet and fleet inventory. Operating expenses increased 10%.
At July 31, 2015, investment in Guest fleet was $40.6 million, an increase of $19.1 million from April 30, 2015, due to fleet purchases of $20.4 million, a decrease in fleet disposals of $6.9 million, and a reduction of $3.1 million in transfer to fleet inventory. Fleet and other financing increased $18.3 million to $49.3 million from April 30, 2015.
The Company's core business, promoting the opportunity to "experience Canada at your own pace(TM)" through the recreational vehicle experience, is seasonal in nature with the majority of its revenue being earned during the May to October period, the first and second quarters of its fiscal year. The majority of the Company's cost of services expenses before employee compensation, benefits and depreciation are incurred in that same period. The Company markets for sale previously Guest experienced recreational vehicles and fleet inventory on a continuous basis throughout the year; however, sales of such units are generally strongest from January to early summer. As a result of ongoing depreciation, interest and other operating expenses, the last two quarters of the fiscal year normally produce operating losses. Losses incurred in the last two quarters may exceed profits earned in the first two quarters of the fiscal year.
The financial data included in this release has been prepared in accordance with International Financial Reporting Standards, except for the term cash flow from operations per share fully diluted. Cash flow per share is a measure that provides shareholders and potential investors with additional information regarding the Company's liquidity and its ability to generate funds to finance its operations.
CanaDream Corporation promotes Canada and the opportunity to "experience Canada at your own pace(TM)" in recreational vehicles and sells its Guest experienced recreational vehicle fleet on a wholesale and retail basis. The Company is utilizing its proprietary business-to-business web-enabled system, www.canadasbest.com, and its business-to-consumer on-line internet reservation system, www.canadream.com, to operate and expand its network of RV rental locations in Canada. CanaDream maintains six Company-operated locations in Calgary, Vancouver, Whitehorse, Toronto, Montreal, and Halifax. CanaDream now offers a global RV solution by partnering with Apollo Motorhome Holidays in Australia, New Zealand and the USA. The Company is also leveraging its proprietary technology to build a collective membership network of associate dealers that are fully interconnected to CanaDream's e-commerce systems. CanaDream currently has one associate dealer franchisee in Edmonton, Alberta.