Top things to see and do in Mammoth Lakes
You won't find a better place for a family RVing holiday than this California dream location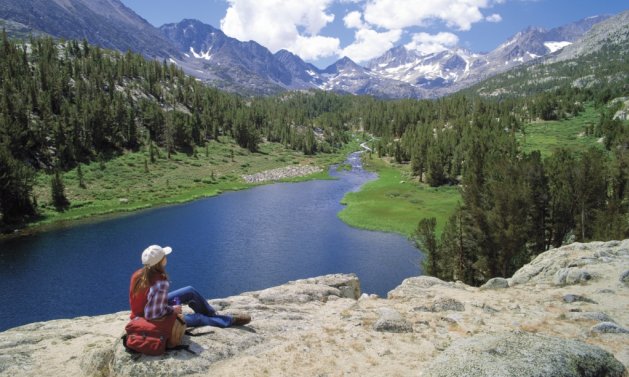 When picturing a trip to California's Sierra Nevada region, you might imagine towering mountains, breathtaking valley views and clear lakes that invite you to indulge in your favourite form of outdoor recreation. If that sounds like the family getaway for you, then Mammoth Lakes should be your next destination.
"Mammoth Lakes is a fantastic destination for RV enthusiasts," said Michael Vanderhurst, industry relations and sales manager for Mammoth Lakes Tourism. "Easy access via the world-famous Route 395, Mammoth Lakes is five hours from Las Vegas, three hours from Death Valley and one hour from Tioga Pass, the east entrance to Yosemite National Park."
It warrants mentioning that this community has some of the country's best RV parks to choose from. If you like to sample the variety of local attractions, you can alternate between wilderness camping and more amenity-rich RV sites in town.
"Mammoth Lakes has a full hook-up RV campground right in town," said Vanderhurst, "and numerous dry camping campsites throughout the community."
There is an extensive list of attractions and recreation opportunities available here, but we know you're excited to get out and explore, so we've listed the top five things to do in Mammoth Lakes to get you started and whet your appetite for adventure.
1. Check your schedule
One of the town's many points of pride is the consistent stream of events that take place in every season. The Mammoth Lakes Bluegrass Festival, for example, is returning for another year of toe-tapping musical entertainment on Labour Day weekend. There are also other appealing choices for the entire family, regardless of age or preferences.
"Mammoth Lakes is a charming little town with a jam-packed schedule of festivals, sporting competitions and musical events that cater to all tastes, from blues to jazz," said Vanderhurst.
Be sure to check out the Fourth of July activities, fishing derbies, arts and culture events and culinary festivals that are held here each year.
2. Get creative
This is an artsy little town, and you can see examples of local talent in all aspects of the community. Take a tour of the historical and contemporary displays at Mammoth Gallery, or be entertained by one of the musical events hosted by Chamber Music Unbound. Get a bit more interactive by attending a production by Sierra Classic Theatre. This community theatre group puts together an annual murder mystery fundraiser in the fall and various other performances and events throughout the year, such as Shakespeare in the Park.
For additional arts and culture treats, plan to attend the Mammoth Lakes Fine Arts Festival, or shop for some arts and crafts made by skilled local artisans at the Labor Day Festival of the Arts.
3. Go sightseeing like you never have before
Seeing the sights in this area is a legendary undertaking, but well worth the busy itinerary. Take in the famous natural features at Yosemite National Park or explore Bodie Ghost Town to learn about the days gone by. A trip to Rainbow Falls is in order if you are looking for an easy hike with extraordinary views. Be aware that you will be required to take a shuttle bus during the busier months of summer. Mono Lake is a terrific spot to see wildlife, especially birds, and the Mono Lake Tufa State Reserve hosts interpretive shoreline tours and nature walks, not to mention a variety of other interactive activities.
For tours of these areas and more local sightseeing hot spots, contact Mammoth All Weather Shuttle. This transportation company offers half- and full-day guided tours of the area's most popular scenic zones.
4. Saddle up and ride
Taking your family on a tour by horseback is an unforgettable way to see what Mammoth Lakes is all about. No previous riding experience is required—the tour company staff members are equipped to make the experience safe for even young riders.
Try the two-hour ride to Heart Lake, located in the stunning Mammoth Lakes Basin. On your way you will get to see a real historic gold mine and mining camp. There are also guided rides available along Convict Lake, Rock Creek and Red's Meadow, among others. Some facilities allow you to have hands-on experience at the ranch, just like the cowboys of the Old West.
5. Go fishing for fun
Anyone who's been to this area will tell you that the fishing is justifiably popular. The season runs from the last Saturday in April until November 15 each year, so many RVers take advantage of the warm summer temperatures and reel in a big one. The trout fishing is some of the best the world has to offer, and there are several companies that offer rentals, tackle sales, licences and fishing tours. The lakes and streams here are clean and clear, so an angling trip is just as much about enjoying nature and taking in the view as it is about the bounty you catch.
Contact one of the local fishing guides for information on tours, regulations and the best places and times to cast your line.