L.A.: The City of Angels and water activities
The bigger the city, the more ways to get down to the water this summer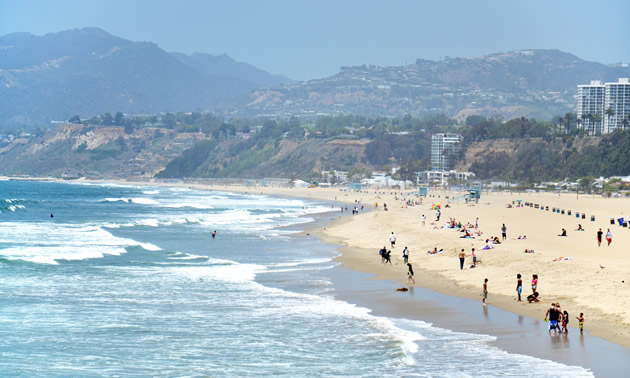 Los Angeles is known for its warm weather, terrible traffic and possible celebrity sightings. It's also known for its miles of sandy beaches and awesome ocean views. Here are some of the best ways to enjoy the water, along with all that Los Angeles has to offer.
Santa Monica Beach is 3.5 miles (5.6 kilometres) in length, and provides a wide assortment of activities. The famous Santa Monica Pier is in the middle of the beach. It has an amusement park, an aquarium and several restaurants. The Annenberg Community Beach House is located on the south end of the beach. There is a splash pad for younger kids, a playground, a cafe and a historic pool. There are several Perry's Cafe and Beach Rental shacks along the expanse of sand where lounge chairs, umbrellas, coolers and wind guards can be rented.
Aloha Brothers Surf Lessons operate at Venice Beach. They offer group and solo classes for all ages and skill levels. If surfing has always interested you, but you just haven't gotten the hang-10 of it, this might be your chance.
California Dream Tours start out at Marina Del Rey. Captain Joss is a seasoned sailor and fisherman, and take parties of up to six people to see some of the L.A. sites by sea. There are daytime, sunset and planned private tours to go on. You might just see some whales while you're at it.
Will Rogers State Beach is less crowded than its counterparts, and boasts a fish and chip shop that is open year round.
Hollywood Reservoir, also known as Lake Hollywood, has a 3.3-mile (5.3 kilometre) hiking trail around it. This is an easy trail suitable for all skill levels, and has some amazing California views (these include the Hollywood sign and some 1920s architecture).
Dockweiler State Beach comes equipped with its own RV park. This campground has a view of the ocean, and is steps away from the sandy beach. The beach also has cement fire rings for roasting marshmallows. If you're parking here, make sure to have blinds on your rig so you won't be woken up by the glorious L.A. sunrise. The one downside to this spot is that planes fly overhead 24/7, as the airport is relatively close. This might not be the spot for you if you're a light sleeper.
The Huntington Beach area offers RV camping at Bolsa Chica State Beach, Huntington by the Sea RV Resort and Sunset Vista RV Park. Huntington Beach has a laid-back attitude and 10 miles (16 kilometres) of uninterrupted coastline.
Cabrillo Beach is a boat-friendly beach that encourages people to fish to their heart's content. There is a roped-off swim area, an aquarium, a bathhouse and a pier. This one also allows for trailer parking.
To learn more about the City of Angels and its many wet and dry adventure opportunities, visit their tourism website.