Lillooet will make you fall in love
From wine and dining to parks and gardens, Lillooet, B.C., has the escape you seek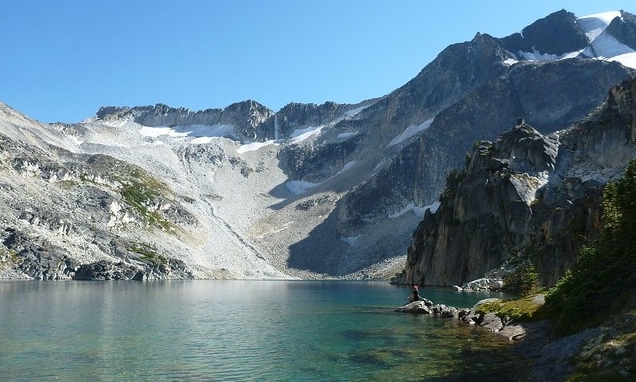 Lillooet is a thriving B.C. mountain community, with all the outdoor appeal of busier centres like Banff and Whistler—but much less crowded. The rugged alpine terrain around Lillooet includes lakes and rivers, perfect for swimming, fishing, jet boating or paddling.
For instance, head to
Marble Canyon Provincial Park
and check out Pavilion Lake. This freshwater lake, hidden away in Marble Canyon, has special significance to the Ts'kw'aylaxw
(pronounced "Ski-lak") people. Scuba diving is a popular activity here. However, the area is also being used for scientific research on microbialites, and as a result some areas are off-limits so as not to disturb the ecosystem. Camping is permitted in Marble Canyon Campground at Crown Lake or at the private Sky Blue Water Resort on Pavilion Lake.
Another place to visit is
Seton Lake Recreation Area
. This zone is part of BC Hydro's Bridge River hydroelectric complex, but it also has great recreation potential. It features one campground and three day-use picnic areas, and guests can go hiking, fishing, canoeing and boating close by. Seton Beach offers swimming and sunbathing options, and there is firewood and drinking water available. Be sure to get a photo from the viewpoint overlooking the Seton Lake Reservoir.
There are also several parks in town. Baseball fans will want to visit Conway Park, as it offers two baseball diamonds and both covered and uncovered spectator stands. Downtown Park is located next to the Lillooet Museum and is another peaceful location to relax with the family. Murray Park is situated alongside the west bank of the Fraser River, with ample natural land you can enjoy if you take the Lions Walking Trail. Finally, Hangman's Tree Park is a common place for people to have picnics and family strolls, and to learn about Lillooet's history at the same time.
After your outdoor adventures, take a break to enjoy local wines.
Fort Berens Estate Winery
has the distinction of being the community's first winery. A group of entrepreneurs with a shared dream and passion for B.C. wines came together and established this gem in the Fraser Canyon. The tasting room is open during the summer every day from 10 a.m. to 6 p.m. From November 1 until May 1, it's open daily from 10 a.m. to 4 p.m. Reserve a spot at the Ethical Table, and you can enjoy a wine-paired meal on a sunny patio overlooking the vineyard and mountains. You can reserve a table by calling 250-486-5555.