An urban time capsule
The birthplace of B.C. offers a slice of history and unexpected treasures just minutes from Vancouver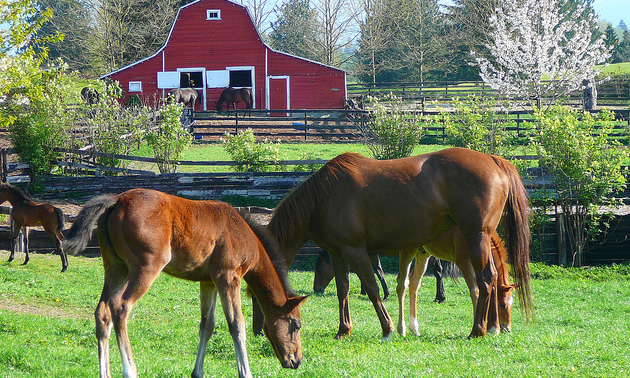 Nearly a century and a half ago, the Hudson's Bay Company established a small trading post used to trade with the First Nations of the west coast. Over time the post grew and evolved, eventially influencing the creation of the colony of British Columbia. Fort Langley is now a national historical site from which the township of Langley was incorporated.
The municipality of 104,000 sits snug in the agriculture-rich Fraser Valley, where rural beauty meets urban aspirations. The township is bordered on the north by the Fraser River, to the south by the U.S. border, and to the east and west by the City of Abbotsford and City of Langley, respectively. The City of Vancouver is only 45 kilometres away.
Amanda Leonard, registration attendant at Fort Camping in Brae Island Regional Park in Fort Langley, says most of the campers she meets come for the shops.
"There are no big box stores in the downtown," she said. "They are all small shops with cool things . . . there is an antique shop and a flea market. People also come for the historical site."
Brae Island offers 156 tent and RV sites, accommodating those who need a 50-amp pull through site, or even those who just want a nice patch of land for a tent. Day programming, kids programs and all the tourism information you can handle are readily on hand.
Fort Langley Historic Site
Fort Langley National Historic Site of Canada is a period fur trade post where people come to journey to the 1800s. Costumed interpreters, blacksmith and barrel-making demonstrations, farm animals and the always popular Xplorer program are just a few attractions that keep thousands of visitors busy each year.
Watch the Fort awake first thing on a typical fall visit. Soon after the Salmon Run begins, and ends just in time for the Fur Trade Wedding. Watch and learn how to make cranberry bannock in the afternoon and end an exciting day cheering for your favourite side in the HBC versus USA Trading Competition.
Heritage and museum tours
If a visit to the Fort doesn't quell the historian's appetite, a self-guided walking tour of Fort Langley's many museums might do the trick. The B.C. Farm Machinery Museum is open April to September and showcases carriages, buckboards and wagons from the time when horses reigned supreme. Watch the natural progression from horse power to steam-, gas- and eventually diesel-powered choppers, grinders and tractors perfectly preserved in this timeless attraction.
The Langley Centennial Museum keeps a collection of more than 4,000 archival photographs, 8,500 objects, and 500 works of art from the township's rich history. The Heritage CN Rail Station houses a 1900s velocipede, a 1920s caboose with original furnishings and a 1930s speeder among other items from B.C.'s railway past.
Sport fishing
A guided Fraser River fishing charter promises a fun, memorable experience for fishing enthusiasts of all skills and abilities. Double Header Sport Fishing is considered one of the premier and most productive sturgeon fishing guides on the Fraser and extending rivers and operates on a simple objective: have fun and catch fish.
The mission-based operation is minutes from Fort Langley and is equipped to carry up to five guests and keep them busy with top-of-the-line, well-maintained equipment. All guests need to bring is a love of fishing and a heart for adventure.
Walking and biking trails
You can also venture out to the the fort-to-fort walking/biking trail that links Fort Langley to Derby Beach Regional Park. The main trail takes visitors from the historic site past the old CN station and to the Fraser River where views of Mount Baker can be seen. Several one-kilometre sections present easy terrain and gorgeous scenery along the Bedford Channel; the trail also connects with other sections for longer, more challenging treks.
Horseback riding
Fort Langley is the self-proclaimed horse capital of B.C., and a population of more than 7,000 equines backs up the claim. Besides a wide variety of shows, competitions and good old-fashioned hay rides, Fort Langley offers plenty of places to trail ride for any skill level.
Back in the Saddle Again, Glen Valley Stables and Langley 204 Riding Stables are just a few local operations who will gladly set you up with a riding lesson, trail ride or cross-country equestrian jumping experience.