This RV resort is a piece of uncongested brilliance
Madera Ranch RV Resort is an all-season, family-friendly RV resort located on beautiful Lake Koocanusa, British Columbia
by Karen Kornelsen —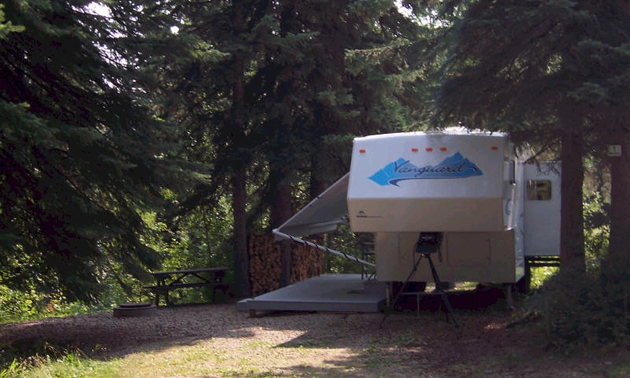 If you're looking for a home away from home in an uncongested wilderness paradise, you need look no further than the brand new Madera Ranch RV Resort on Lake Koocanusa, in southeastern British Columbia.
Newly opened in spring 2012, this four-season resort is intended to provide all the comforts of home in one of the most beautiful settings in Western Canada.
Doug Bender, president of Madera, had a vision. Coming from southern Alberta, he found there were no suitable recreational properties to take his family to on the weekend within an hour and a half of Calgary. One day, he and his family visited some friends on Lake Koocanusa and fell in love with the water, the wilderness and the incredible mountain scenery.
With paradise found, they started looking for a place to build a cabin but they quickly discovered there were no small parcels of land in the area. Then they started searching for a place just for their RV and found that the RV developments in the area had a waiting list of 1,500 to 2,000 people.
Love at first sight
They finally found a small site for their RV near friends of theirs and continued to look for real estate. It was a cold January evening when Doug's wife, Diane, found a listing online for 160 acres on the north quarter of Lake Koocanusa. After speaking with six or seven realtors, they finally found someone who knew the area and they went to see it.
"It was amazing," said Bender. "Even though it was January and it was winter with snow all over, the mountains were absolutely beautiful and there was so much wildlife around. The realtor then asked if we wanted to see another 160 acres that was also for sale on the south quarter. As we came up the road to the south quarter, the sun broke through the mountains in all their brilliance and it was just breathtaking. So as time went on, we bought both quarters of land."
Developing the vision
Even though Doug's background was in construction and development, the couple never had intentions of developing an RV park. It turned out to be Doug's biggest project of his career.
Madera Ranch RV Resort is run by Doug and Diane and their friends, Merv and Mavis Sigglekow. The resort features 130 sites in Phase 1 of the development and will expand to 160 sites in 2013. Doug and Diane's daughter named it Madera, which is the Spanish word for timber.
"Roughly 70 per cent of the property is covered in mature, healthy forest, so the name is very fitting," said Bender. "Our vision for Madera is that people have lots of privacy. (It's) not like the normal campground situation where RVs are parked side by side, you get interrupted by neighbours and it's really congested. So we built the sites in the trees."
Fitting into the natural environment
Bender said they put a lot of work into building the resort in the most sustainable way possible. That was very important to them. The sites are either 70-foot frontage by 100-foot depth or 100-foot frontage by 100-foot depth. All the sites are fully serviced for year-round use with water, sewage and electrical power. But even with the utilities, the goal was to have the lowest impact possible on the wildlife and the environment.
"So with all our utilities, you wouldn't even know they are there," said Bender. "I don't want to call our sewage treatment facility state-of-the-art, but it is extremely environmentally friendly. It's the same way we designed our roads—we removed as few trees as possible. Trees are very precious, so we took a lot of care to remove minimal trees to make a road or an RV pad. We wanted to create a very natural setting—which is another thing that makes Madera unique."
Other important aspects
Another huge goal for Bender was to make the RV resort as secure as possible. The resort will have gated security and will be watched 24 hours a day, 365 days a year.
The lots at Madera range from $75,000 to $150,000 depending on the size and location of the lot. And even though Madera is situated on a large piece of land, the density will be very minimal.
Bender said the resort's location is one of its most appealing features.
"That is the key to any real estate holding," said Bender. "How could it get any better when you're in the Canadian Rockies surrounded by beautiful trees, right beside a lake. There is no comparison to Lake Koocanusa and the quality of water. It is also unique because the south quarter of the property is on the 49th parallel, which is kind of a neat, little attraction. We're also on the end of the road, so it's very private with very little traffic. The resort is surrounded by thousands of acres of vacant Crown land and we really only have one neighbour to the north of us."
Another attractive feature of Madera is the weather; Bender said Lake Koocanusa and Madera have their own micro-climate. So if the weather is not so great in nearby Fernie or Cranbrook, it doesn't mean it's like that at Madera. In mid-summer, temperatures are around 30 C and there is very seldom a cloudy day.
In the comfort zone
One hundred and fifteen lots have already been sold at Madera and Bender said it's because Madera's prices are so affordable.
"Our whole objective is to be as attainable for families as we can make it," said Bender. "It's not ideal to have people indebted to their recreational property and have a financial burden so high they can't enjoy it."
That's what really what it comes down to for the Benders and the Sigglekows. They want Madera to be a place for families to enjoy all year round.
"It is really a team effort and a combined effort by a whole group of people," said Bender. "That group of people grows each day. Everyone that has a lot here is really a co-developer with us. We're just the ones doing all the work and have the overall vision—but that vision coincides with everybody's desire."