It's water under the bridge
You don't have to cross the Atlantic to walk across London Bridge
by Glynis Fediuk —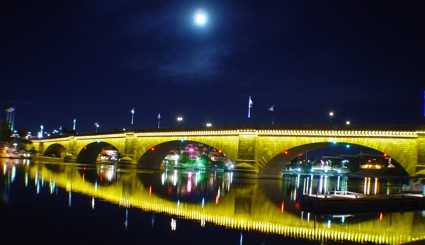 Think of Arizona, and the first thing that comes to mind likely isn't an English bridge built in 1831.
As the home of London Bridge, Lake Havasu City brings a bit of Britain to the desert. The tale of how the bridge arrived in Arizona adds to its allure.
"Originally, there was no reason to have a bridge here—there was no body of water that needed crossing," said Michelle Gardia, director of communications at the Lake Havasu Convention & Visitors Bureau. "It was brought here specifically to attract visitors. There was a peninsula, so the bridge was built on dry land and a channel was dredged under the bridge so that there was a reason for it."
London Bridge—in several incarnations—has spanned the River Thames in southern England for millennia. The bridge currently in Lake Havasu City replaced a bridge opened in 1831, before needing replacement itself in the 1960s. The old bridge was purchased from the City of London by oil baron Robert McCulloch, the founder of Lake Havasu City.
The process of dismantling, numbering and shipping London Bridge to America began in 1963. It was hollowed out and reinforced with steel. In 1971 the reconstruction was completed and London Bridge was re-dedicated to Lake Havasu City.