Spectacular Bill Williams River National WIldlife Refuge
Bill Williams River national Wildlife Reserve contains the largest remaining stand of cottonwood-willow forests.
by Lisa Crane —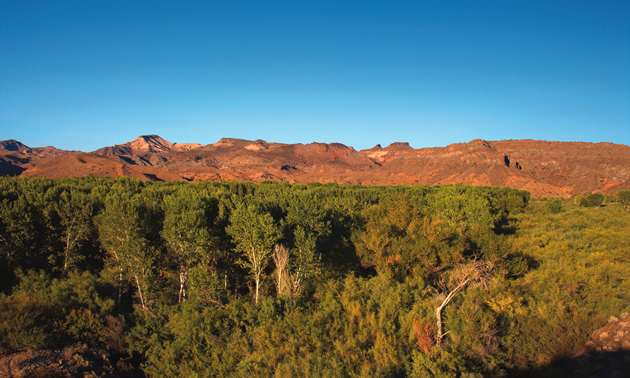 Exploring the Lower Colorado River will bring you to the spectacular Bill Williams River National Wildlife Refuge (NWR).
Dick Gilbert, project leader for the Lake Havasu National Wildlife Refuge Complex, said the reserve contains the largest remaining stand of native riparian habitat (Fremont cottonwoods and Gooding willows) on the Lower Colorado River. These stands of forest were reduced as a result of the changed flood cycle caused by the construction of the Alamo Dam on the Bill Williams River in 1968.
"The refuge is known for its rich species diversity in both plant and animals," said Gilbert, adding that over 350 species of birds have been identified here and it has been designated as a birding area of global importance by the Audubon Society.
With 6,105 acres to explore, visitors will have an experience that is hard to match. The Bill Williams River meanders through the refuge, and you can paddle down the river, taking in the marshes, mountains and natural vegetation.
"Visitors will get a glimpse of what the Lower Colorado River looked like prior to settlement," said Gilbert, "when the broad flood plains that are now in agricultural production contained expansive stands of cottonwood, willow and mesquite trees."
The visitor centre provides interesting information about the refuge's native vegetation and wildlife and its management and conservation efforts.
Gilbert said that the native habitat is managed through planned flood events that are necessary to establish a new age class of the habitat. The Bill Williams River NWR is located about 20 miles from Lake Havasu City along Arizona Highway 95 south.