Around every corner in the Kootenay Rockies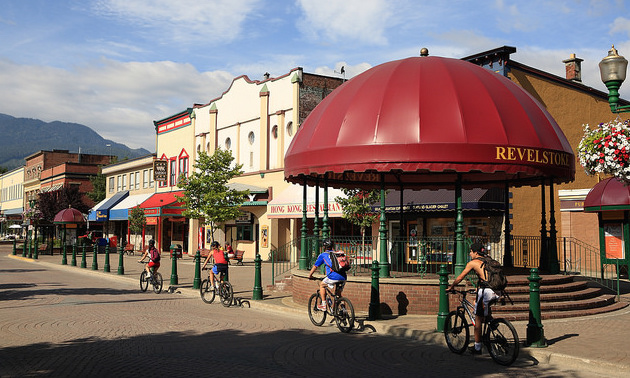 When exploring the Kootenay Rockies, remember you are on Kootenay time so take your time and enjoy the Kootenay vibe. The region has four incredible national parks, quaint towns and villages, and the most engaging history and heritage. On your travels you will discover world-class rivers for fishing, surging whitewater for rafting, mountains to be scaled, refreshing lakes to splash in, wilderness trails for hiking or biking, and mountain golf resorts at their best. Plus a wide variety of hot springs, horseback riding, heli-hiking, wellness spas, guest ranches and numerous camping opportunities await you.
As you steer your RV through the Kootenay Rockies, you are bound to discover an endless array of recreational, cultural and heritage opportunities found in British Columbia's Mountain Playground.
Golden
Between Yoho and Glacier national parks, the mountain town of Golden sits along busy Highway 1. Recreational possibilities in Golden's Kicking Horse Country are endless: whitewater rafting, peaceful backcountry lodges or paragliding off Mount 7. Only in Golden can you enjoy a 1,219-metre (4,000-foot) gondola ride to a mountain-top restaurant. Wildlife viewing abounds with a wolf centre, a grizzly bear refuge and the 150-kilometre (90-mile)-long Columbia wetlands.
Columbia Valley
With your motorhome heading south you will reach the junction of Highway 93/95—welcome to the peaceful village of Radium Hot Springs. Be alert for the resident herd of bighorn sheep. A northeast turn will take you to Kootenay National Park and the world-famous Radium Hot Springs mineral pools. There is a good selection of overnight accommodation and campground options in Radium.
Winding your way north on Highway 93 takes you through the heart of Kootenay National Park with numerous points of interest and short hikes.
Continuing your journey, you will quickly arrive in Invermere, with a variety of exquisite shops, art and craft galleries, outdoor cafés and full-service restaurants. Stroll from downtown to the beaches of Lake Windermere for some warm water swimming, serene parks and motorized and non-motorized watersports rentals.
Heading west of Invermere takes you to Panorama Mountain Village, just a short drive into the beautiful Purcell Mountains. The four-season resort offers a variety of heated pools and summertime waterslides. Tee up for an incredible golf experience at Greywolf Golf Course.
Farther south on Highway 93/95, Fairmont Hot Springs is a must-stop with its hot springs pools filled with natural mineral waters. Fairmont Hot Springs Resort's amenities include 45 holes of golf, seven restaurants, recreational programs, spa, overnight lodging and a deluxe RV park.
Fort Steele
The Whiteswan and Wasa Lake provincial parks are two options on your way to Fort Steele Heritage Town, a revitalized 1890s gold rush town. Horse-drawn wagons ply the street so catch a ride or go back in time aboard the authentic steam train, pan for gold and laugh your head off at the entertaining vaudeville-style shows at the Wild Horse Theatre.
Cranbrook and Kimberley
The largest town in the region, Cranbrook takes its roots from the glamorous age of railroading, which is celebrated at the Cranbrook History Centre/Canadian Museum of Rail Travel. Enjoy a performance at the Key City Theatre or test your good fortune at the Casino of the Rockies. The third week in June brings the festivities of Sam Steele Days. A round of golf is central to your Cranbrook stay as the nearby Wildstone, Shadow Mountain, St. Eugene, Mission Hills and Cranbrook golf courses are always ready to welcome visitors.
Up the road lies Kimberley. The centre of Kimberley is a European-style Platzl—a charming open-air shopping and dining area graced by flower baskets and attractive brick walkways. Kimberley's mining heritage museum brings history to life and is a good introduction to the nearby Underground Mining Railway. Visitors can enjoy a leisurely ride to a restored and still functional powerhouse and discover the mining heritage at an Interpretive Centre at the end of a 227-metre (750-feet)-long underground tunnel. Kimberley also boasts three fine golf courses, Cominco Gardens and many festivals such as the famous JulyFest, a Medieval Festival and a great line-up of First Saturday events.
Elk Valley
If you have travelled to the Kootenay Rockies through the Crowsnest Pass and Highway 3, then you will want to stop at the gateway town of Sparwood, the first B.C. community to welcome you. Sparwood sports the world's largest tandem axle dump truck, a larger-than-life mural tour depicting life of yesteryear and underground mining artifacts. Teck Coal offers free tours of open pit mine operations throughout the summer from the visitor centres in Elkford and Sparwood.
Fernie is hemmed in by the majestic Canadian Rockies. World-class fly fishing, placid or wild whitewater rafting and over 100 mountain bike and hiking trails wind through the area. The delightful arts community brings to life Summer Sunday Socials and the growing Wapiti Music Festival in August. RVers will want to check out the brand new Fernie RV Resort and its 115 spacious sites next to the Fernie Golf and Country Club.
From Fernie heading west you will come to the small town of Jaffray. If you were to simply drive through Jaffray, you would miss the opportunity to enjoy two stunning mountain lakes, Rosen and Tie. Both have public swimming areas and Tie Lake has a small provincial campground. The Will-O-Bend golf course is a nine-hole executive par-four that will challenge your game and offer vistas of the Rocky Mountains. Jaffray is also the trailhead to Lake Koocanusa, a recreational playground for water lovers.
Creston
Wine lovers and foodies will delight in Creston. With three wineries—Baillie-Grohman, Skimmerhorn and Wynn-wood—and dozens of fruit and vegetable stands to pick up locally produced food, Creston brings the "Experience the 10 Mile Diet" to life. Orchard and farm tours can be arranged, as well as tours of the Columbia Brewing Company, home to the popular Kokanee beer and its Sasquatch mascot.
The Creston Valley Wildlife Management Area consists of 17,000 acres of wetland habitat. Its viewing towers and guided canoe tours offer learning and fun. There are lots of campgrounds in the area.
Nelson
Drive north on Highway 6 to the hidden gem of Nelson. Set aside time to take the self-guided walking tour of 350 restored heritage buildings. Ride Streetcar No. 23 along the Kootenay Lake waterfront or wander down Baker Street and pop into the studios and galleries of one of Canada's finest small art towns. Last year Maclean's magazine designated Nelson as one of Canada's Top 10 Places to See.
If you have chosen to drive north on Highway 3A from Creston, you must stop at the Glass House near Sanca. It was built starting in 1952 and, oddly enough, was created from over 500,000 square embalming fluid bottles.
Up the road comes the historic Gray Creek Store and then the artisan community at Crawford Bay, where you will see everything from blacksmithing and glassblowing to broom-making and pottery. Or unpack your golf clubs and play a round at the region's original destination golf course at Kokanee Springs. Pilot Bay Provincial Park just south of the ferry landing offers several hiking trails including a short but steep trek to the restored picturesque Pilot Bay Lighthouse.
Once aboard the 45-minute scenic Kootenay Lake ferry, the world's longest free ferry ride, you will cruise across the water to the Balfour ferry landing. The village of Balfour is small but vibrant and offers visitors full amenities. From this point you can head north to Ainsworth and Kaslo or south to Nelson and Castlegar.
Ainsworth Hot Springs is a short drive north on Highway 31 from the ferry landing. This resort offers casual dining and comfortable rooms overlooking beautiful Kootenay Lake. These unique hot springs snake through a horseshoe-shaped cave, which is lined with stalactites. Relax in the cave pool or splash around in the main pool and gaze upon the Purcell Mountain vistas.
Kaslo and Sandon
As you travel farther north, Kaslo and Sandon both offer excellent historical attractions such as the SS Moyie and the Slocan Mercantile Block. The annual Kaslo Jazz Etc. Summer Music Festival attracts top talent and big crowds. Taking Highway 31A brings you past the ghost town of Sandon, once one of the largest bustling boom towns of the Kootenays. Farther to the west, New Denver and Silverton offer artisan shops, walking trails and the Nikkei Internment Memorial Centre.
Castlegar
If you swing the motorhome south at Balfour, you will visit Nelson and farther along Highway 3A brings you to Castlegar at the confluence of the Columbia and Kootenay rivers. Learn about some local history at the Doukhobor Discovery Centre and the Station Museum. Castlegar also offers superb recreation facilities such as boating and fly fishing, golfing and mountain biking. The now abandoned Columbia Western Railway line zigzags out of Castlegar through the Monashee mountain range, eventually intersecting with the Kettle Valley Railway Trail—this is a favourite destination for cyclists from around the world.
Trail and Rossland
The cities of Trail and Rossland are a short drive south on Highway 22. In Trail, the Columbia Gardens Vineyard and Winery offers guided tours. At the Trail Interpretive Centre, a tour of the world's largest lead/zinc smelter begins with engaging hands-on exhibits.
Mountain bikers and skiers love the mountain city of Rossland. Hundreds of kilometres of mountain biking trails make Rossland the "Mountain Biking Capital of British Columbia." Enjoy the Gold Fever Follies, a theatrical celebration that is presented throughout the summer at the Rossland Miners Hall. A winter visit to Rossland makes a slope-style run at famous Red Mountain Resort a must.
Nakusp
Heading north again will take you alongside the beautiful Arrow Lakes. Just before the village of Nakusp, watch for the turnoff to the Nakusp Hot Springs—12 kilometres off the highway. The Nakusp Hot Springs' naturally heated mineral pools are situated in a beautiful mountain setting, with creeks rushing by and trees to shade your eyes. Accommodations and a shaded campground are located on site. Nakusp also offers a restful waterfront walkway that displays several gardens—one of them being a beautiful Japanese garden. You can also check out Halcyon Hot Springs, an elegant restored hot springs treasure.
Revelstoke
From Nakusp you can cross the Arrow Lake at Galena Bay on the newly built ferry. The highway continues onward to eventually connect with Highway 1 at Revelstoke. The mountain-lifestyle city of Revelstoke is situated in the heart of the Rocky Mountains. Downtown, colourful heritage buildings are squeezed around Grizzly Plaza, where live music fills the air nightly in the summer. Revelstoke's new Visitors Centre can help you plan your stay. Visit Revelstoke's excellent museums, take a tour of BC Hydro's massive and recently upgraded Revelstoke Dam or play a round of relaxing golf at the community course.
The Trans-Canada Highway meanders back to the town of Golden, with breathtaking views of the Selkirk, Purcell and Rocky Mountain peaks around every corner. Stop by a local visitor centre and pick up a copy of the official Kootenay Rockies Circle Routes Map and discover all that British Columbia's Mountain Playground has waiting for you to discover year-round.