Learn to climb in Kimberley
If you've always wanted to go straight up a wall, Spirit Rock Climbing Center will teach you the basics of safety and technique
by DaleAnn Shellborn —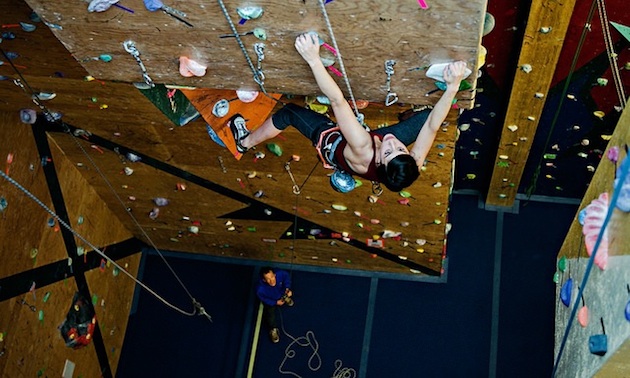 If you'd like to go home from your trip to Kimberley with a new skill as a souvenir, check out the Learn to Climb course at Spirit Rock Climbing Center on Kimberley's central Platzl.
Aimed at beginning climbers of all ages, this is a two-hour class that will provide students with a strong base to start recreational climbing.
"We have had lots of active 50-plus people take it," said Ryan Tarves, the general manager at Spirit Rock. "It's a great way to learn the ropes and some basic climbing skills. We tend to tailor the course to any skill level."
The Learn to Climb program teaches basic standards of belaying with a tube-style belay device, top rope climbing and basic movement for climbing in a gym. All safety equipment is provided, including harnesses, belay equipment, shoes and ropes. Topics covered include:
Climbing terms and etiquette in the gym
Safety in falling at the bouldering wall or anywhere
Basic climbing movement and technique
How to tie the figure-eight knot
Belaying from a top rope
The centre is called Spirit Rock because "climbing is as much about an exercise of the mind and liberation of the spirit as well as the physical exercise," said Tarves. Climbers, he explained, can learn a lot about themselves while hanging on a wall.
"They learn to deal with perceived fear versus real danger," said Tarves. "They learn to trust themselves, equipment systems and others, and they learn to overcome physical limitations and self-imposed negative mental constructions of themselves."
Tarves pointed out that statistics show indoor climbing is significantly safer than downhill skiing, recreational hockey or mountain biking.
The course costs $65. Please note that booking for this program requires 48 hours' notification to provide proper staffing.