From waterfalls to whitewater rafting, you'll find adventure in Kimberley, B.C.
Outdoor recreation is an integral part of the Kootenay vibe, and Kimberley is a nature lover's playground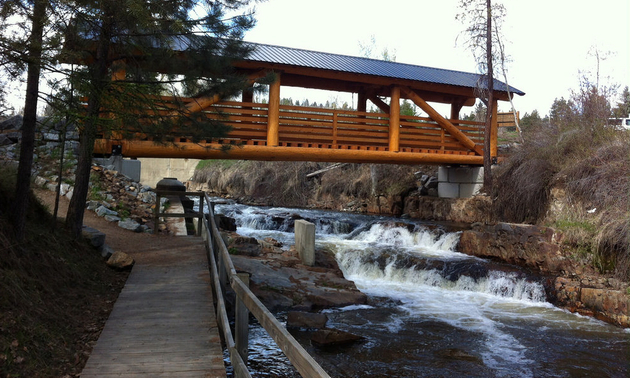 Tucked away in the mountains like a secret treasure is the tourist-friendly community of Kimberley, B.C. While it's known for its ski hill and winter recreation, the summer season brings just as much activity to the town. These are a few of our top suggestions for getting outside and embracing the Kimberley lifestyle.
Bring your camera and spend the day at Marysville Falls and Eco Park, located just south of Kimberley in the community of Marysville. There is a short (mostly boardwalk) route that runs along Mark Creek, and if you follow it from the trailhead for 10 to 15 minutes, you will be rewarded with the sight of a 30-metre waterfall.
If you venture across the street from the trailhead, you can find the local Eco Park. You'll see a sculpture of a westslope cutthroat trout, which was created in honour of the native species returning to the area after an intensive watershed restoration project.
For those who want to get wet and wild, there are places to enjoy some epic whitewater rafting here. The St. Mary River and other local waterways are optimal for this activity, and you can choose an adrenalin-pumping challenge or just take a leisurely float with the family. There are a number of companies offering tours and information, so you can pick the best type of rafting experience for you.
Take a guided trip along the St. Mary River, or head out on one of the dozens of alpine lakes and rivers near by, and try your luck at fly fishing. The waters here have a diverse range of fish, including cutthroat trout, rainbow trout and bull trout.
The St. Mary River is known as one of the best dry fly-fisheries for these species in North America. It's a free-stone stream that meanders at a gentle pace for about 80 kilometres before it joins with the Kootenay River, making it suitable even for novice anglers who want a relaxing float. Please note that fly fishing here is catch-and-release only.