Destination: alpine freedom
Just comfortably remote, the ski town of Kimberley, B.C., has become a popular year-round vacation destination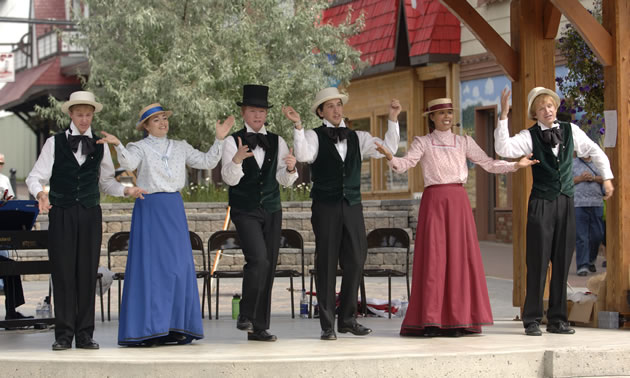 Need to get away from traffic, overloaded calendars and office crises? Tired of city stresses and the corporate gerbil-wheel? Kimberley, B.C., invites you to shed your routine, at least temporarily, and come for a visit.
Kimberley is located 30 kilometres north of Cranbrook, in sunny southeastern B.C. It lies between the Purcell and Rocky Mountain ranges, in a paradise of nature and fresh air. The traffic is sparse, the tee times are open, the views are awe-inspiring and there are lots of private, spacious RV and camping sites.
On average, Kimberley is gifted with 300 days of sunshine per year, so it's a good place to be outdoors, enjoying the parks, walking or biking the trails or hiking in the surrounding mountains and hills. There is plenty of opportunity for mountain biking, world-class fly fishing and whitewater rafting, and countless lakes and waterways for canoeing and kayaking. Downtown Kimberley's wide Platzl, or pedestrian mall, is an inviting stretch of boutiques and patio-fronted restaurants, with more of the same just a few steps above street level and within a block.
According to Jesse Ferguson of Tourism Kimberley, Kimberley is a city of semi-verified superlatives.
"It's been called the highest city in Canada, and home to the country's smallest daily newspaper and the world's largest cuckoo clock," Ferguson said. "It claims to be among the cities with the most restaurants per capita in the country. It hosts the national bocce championships and one of the country's largest soccer tournaments—both on the same weekend."
The bocce/soccer weekend sees a gathering of outlandishly costumed bocce players and more than 70 teams of die-hard soccer players, along with their fans. Other organized events throughout the summer include round-the-mountain races, longboard and downhill races, candlelight hikes, bull-riding, and summer festivals in Kimberley itself and the surrounding communities. Local artists take advantage of the summer with open-air painting sessions and outdoor theatre, and lots and lots of music.
In Kimberley, you can choose your level of adventure. Folks here know how to play hard and they know how to slow down and take it easy. They believe that fun is about feeling good, and it's best when it's shared with others.
"Those marching to the beat of their own drummer will probably fit the rhythm of a Kimberley summer," said Ferguson. "Kimberley has been known as the city of festivals, but it prefers to be simply known as a good place to be rubbing shoulders with friends, playing games, taking in concerts, watching collective big screens, or racing with folks from in and out of town. There will be, guaranteed, a smashing fun time."
For Kimberley's most up-to-date event lists, go to www.tourismkimberley.com.