Cominco Gardens: A floral work of art
Kimberley's company-town history is embedded in these gorgeous flower gardens and mature groves of conifers
by Virginia Rasch —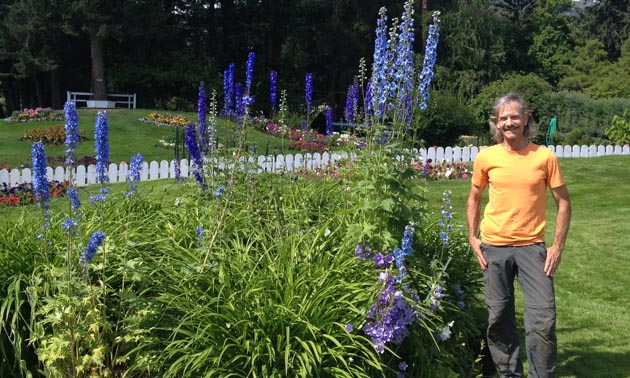 Established in 1927, Cominco Gardens is a five-hectare (three-acre) gem in Kimberley, B.C., and is a tribute to the history of the city as a "company town."
The famous Sullivan Mine was the world's largest producer of lead-zinc-silver for over 100 years and employed the majority of workers in the city. The company created its own Elephant Brand Fertilizer from byproducts of the ore. What better way to advertise the fertilizer than to create beautiful gardens?
Dan Matheson, whose father worked for Cominco, has been a gardener at Cominco Gardens for 24 years and has been its manager for 14 years. He wears his heart on his sleeve when he talks about what this garden means to locals and tourists alike.
He especially likes seeing visitors astounded that a small city like Kimberley could have such a nice garden.
"I like the guests who linger and find favourite parts of the garden," Matheson said. Thousands of visitors come each year, both locals and travellers. The guest book for July 2019 showed guests from as far as Montreal, Saskatoon, Arizona, Scotland and Russia.
The annual and perennial gardens bloom from spring into fall with the peak between mid-July and mid-September. Large conifers offer shady places to sit and rest.
The Memorial Rose Garden is a highlight for most visitors. For a nominal cost, you can have a chosen rose planted and maintained along with a plaque to honour and remember a departed loved one. There are now over 100 memorial roses planted in eight flower beds.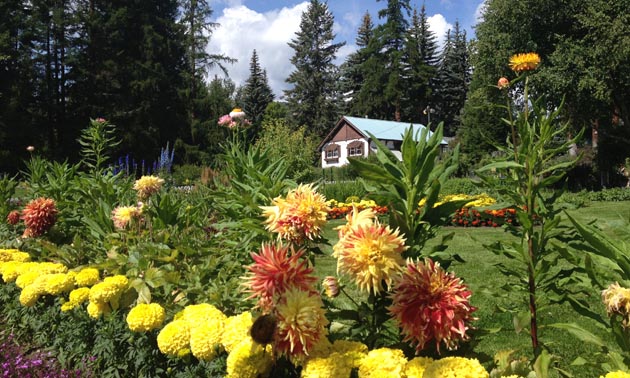 Visiting details and directions

Cominco gifted the gardens to the City of Kimberley in 1987, and now Cominco Gardens is run by the non-profit Kimberley Community Development Society. Admission is free but donations are appreciated. The gardens are open seven days a week and are wheelchair accessible.
Cominco Gardens is located within the city and minutes from the Platzl—Kimberley's downtown core. Once in the city of Kimberley, proceed north on Wallinger Avenue/Fourth Avenue following signs to the medical clinic. Upon reaching the top of the Fourth Avenue hill, turn left onto Rossland Street, then left again into the Cominco Gardens parking lot, which can handle big RVs.
The Sullivan Mine closed in 2001 but while you are in the area, you can take a tour on the Kimberley Underground Mining Railway, a popular tourist attraction that had a record 10,714 people ride the train in 2017.