A fun way to learn about Kimberley
Kimberley's Underground Mining Railway takes passengers on an informative tour, with the option to take in some amazing mountain views
by Karen Kornelsen —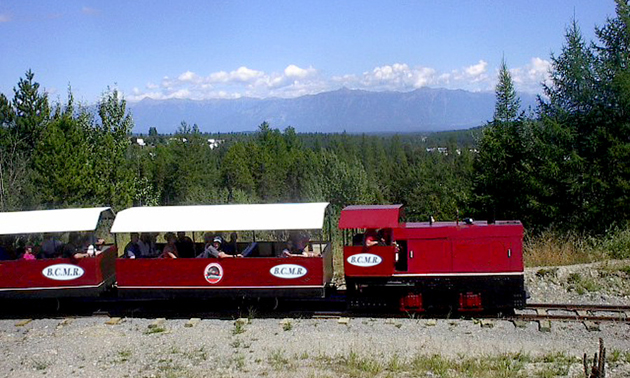 Kimberley is set into the beautiful Purcell Mountains in southeastern B.C. Not only is it a hub for hiking, kayaking, whitewater rafting, golfing and camping in the summertime, it is also well known for its world-class skiing and snowboarding in the winter at Kimberley's very own ski resort, Kimberley Alpine Resort, which lies just five minutes from downtown.
And when it comes to the heart of Kimberley, there is no better way to find out how mining put the city on the map than taking a tour at Kimberley's Underground Mining Railway.
Operating on weekends starting on the Victoria Day long weekend each year, the train takes its passengers on a historical tour of the now-closed Sullivan Mine, which was a leading producer of lead and zinc for almost 100 years. The train will take you underground to see an integral part of Kimberley's history.
Sharing first-hand knowledge
Sharon Henry is the public relations officer for Kimberley's Underground Mining Railway. She said the tour guide is Bill Roberts, a man who worked at the Sullivan Mine for more than 30 years.
"We go through the Mark Creek Valley into Mark Creek Canyon, and there we have an underground tunnel which is about 720 feet long," said Henry. "In the tunnel, we have different interpretive areas. We try to make it as much like the Sullivan Mine as possible."
Roberts takes people through the mine and makes various stops to show people a slusher, a mucking machine, drills, the refuge station and much more. There is also a kid's corner along the way where kids can take a break from the tour and play with Lego and other toys. Henry said the tour includes a visit to the Sullivan Mine Powerhouse.
"The men who made the tunnel for the tour are actual Sullivan Mine miners," said Henry."It's all very exciting and we try to keep it as authentic as possible. In the powerhouse, there is an actual model of the mine, since it's really hard to envision 300 miles of tunnel. It's hard for many people to wrap their heads around how amazing that is."
Options for everyone
New this year, visitors will now have a choice if they take the 11 a.m. tour. They can either take the train underground for the full mining tour or they can take the train up to Kimberley Alpine Resort for an amazing scenic tour.
"You get to see an incredible view of the valley and mountains; it's really beautiful," said Henry. "People can either mountain bike or walk the scenic nature trails back down. The train will take up your bike—and if you choose to find your own way down, you can save your ticket for another one-way ride on a different day."
Starting on July 1, 2012, the tours will be offered daily until Labour Day weekend.