Unique venues for the arts in Kelowna
Arts centres and events bring artists of all disciplines together in this beautiful Okanagan city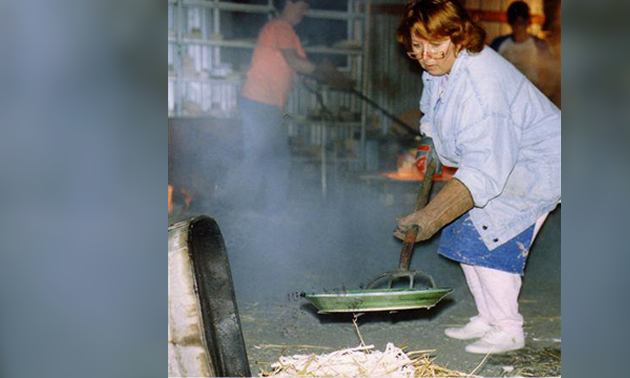 While the Okanagan is sometimes thought of as a region of retirement communities, Kelowna is bustling when it comes to its cultural aspects.
The Rotary Centre for the Arts (RCA), located at 421 Cawston Avenue in the heart of Kelowna's Cultural District, is a hive of activity. The multidisciplinary visual and performing arts centre is open to locals and visitors of all ages, and drop-ins are welcome every day of the week—there are ongoing activities and classes, outdoor performances in summer, art exhibitions, the Alternator Gallery for Contemporary Art, and the working studios of several artists and artists in residence.
Artists at work
Studio 112, or MyStudio, is one example of the new and refreshing energy for the arts that can be found in the area, said co-founder Donna Lee. Opened in January 2013, MyStudio is a resident artist co-op that provides a venue in which artists and artisans can explore their creativity and talents, whether they are a recognized artist yet or not.
According to Lee, making membership open to anyone who has an interest in art and a desire to be creative is an initiative to keep a "cliquey artist community" from forming in Kelowna.
"That was part of the reason for this studio . . . art snobbery," she said.
With a relaxed personality and an apparent passion for increasing access to opportunities in the arts, Lee herself is the farthest thing from an art snob. She does janitorial work to supplement her work in sculpture, and jokes that her bachelor of fine arts (BFA) from Okanagan University College was not always motivated by a desire to enter the art world in full force.
"I originally wanted to get into carpentry and renovations, and didn't know how to use tools," said Lee. "But 15 years ago they were saying, 'You're a woman, we can't let you into this program.' "
She said a friend suggested that she study sculpture in art school as another means to learn how to build and to use tools.
"That was the best way to go about it," said Lee. "And when I got in there I just loved it, so I stayed and got my BFA."
Sharing the enthusiasm
Today, Lee said, she is "inspired by people who are just starting or people who are new."
"People don't realize it, but once they start to do something, their mind takes off and they become really excited, and it excites everyone around them," she said. "It's enjoyable to see everybody tap into something.
"A lot of people who do have a passion for it don't have the space at home to do it. MyStudio is here to provide you with everything you need to take off."
A supportive community
The springboard potential of Lee's studio has already been demonstrated; one of the six members and three associate members who have joined MyStudio since January has been invited to show in a local gallery, Gallery 421 on Raymer Avenue.
Lee said she expects that, beyond offering the space for artists to work and show, the studio will support member artists who are just starting out through its co-operative aspect.
Looking ahead to ArtWalk
"MyStudio also assists members by organizing shows in galleries and public spaces," said Lee. "We will likely be a part of ArtWalk, which is held in the second week of September annually in Lake Country. Ten thousand people attend in a two-day period."
While Lee said the Lake Country ArtWalk is a juried show and that some of the MyStudio members might not be invited to exhibit on their own, their application as a group will be stronger because the stronger members of the co-op will support the members who have not yet established themselves on the scene.
"ArtWalk for us will not be about setting up a display for people to buy, it will be about presenting our idea and promoting the studio and the classes that go with it," said Lee. "It will be a hands-on experience for the people that come in, because they'll actually be interacting with the artists."
A potter's perspective
Bonnie Anderson, a veteran artist with RCA and owner of Potters Addict Ceramic Art Centre—a working studio and pottery school—shares Lee's passion for the continuing development of art at the centre and in the surrounding cultural district.
After discovering clay in university in 1980, Anderson taught classes in pottery, handbuilding and pottery wheel techniques in Calgary. When an aunt living in Kelowna showed her the new mezzanine that they had built over their garage where they serviced their HandyDart buses, Anderson took one look at it and envisioned it as a studio space.
"I asked if she would let me move my studio into the mezzanine, and she said yes," said Anderson. "By the time I got here I had people waiting to take classes . . . but after a while there were so many people coming up the stairs to the mezzanine floor that I had to leave because it was causing a disturbance downstairs in their office," she added with a laugh.
At home in the cultural hub
Anderson operated a studio on Sexmith Road for 13 years before becoming one of the first artists to own studio space in the RCA in 2002 when it opened.
"We're working very hard to develop our cultural district," she said. "Here, you have an opportunity to watch the artists in action—we're all working. In a gallery you'll just find the finished product and you won't be able to meet the artist unless it's an opening night. But here you can see the artists working all the time, pop in and ask questions."
For visitors, Anderson suggested dropping by the RCA for a behind-the-scenes look at art production, and from there they could go on a walking tour of the expanding number of local galleries in the six-block district of north downtown. She said Hambleton Galleries and the Turtle Island native art gallery are just a moment's walk from the RCA. The Kelowna Art Gallery is located directly across the street.
Self-guided walking tour pamphlets and public art brochures are available at visitor information centres and kiosks in Kelowna, and updated information on gallery shows and public events can be found online.