Kelowna's restaurants serve up local flavour with flair
Three Kelowna restaurants are making good use of local ingredients
by DaleAnn Shellborn —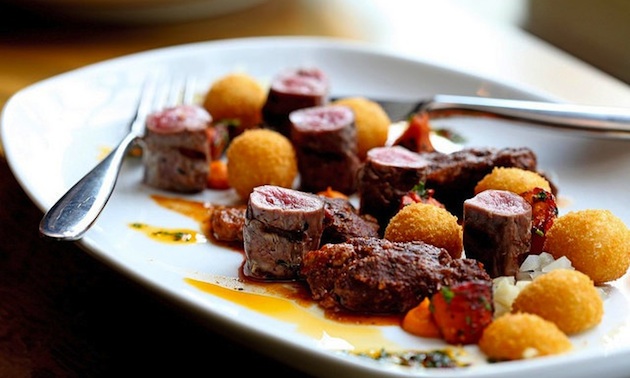 The beautiful Okanagan Valley is known for its bounty of fresh, flavourful produce. Visitors love to view the vineyards, orchards and grazing lands in this picturesque part of B.C. We've told you about the Kelowna farm to table initiative and shared a culinary tour of this central Okanagan city. Now we'll let you in on the secret to eating like a local at some of Kelowna's finest restaurants, where home-grown produce is always on the menu.
Raudz Regional Table, 1560 Water Street: This popular restaurant bills itself as "fresh, local, comfortable." It focuses on food grown in the region and serves only Okanagan wines. It's an open space decorated with photographs of local farmers and features a large communal table. Raudz doesn't take reservations, so get here early if you want to try some of Kelowna's best food.
Lakeside Dining at the Hotel Eldorado, 500 Cook Road: Sample artisanal cheese and organic vegetables from local farms when you take a table with a view at Lakeside. This place is famous for its Sunday brunch and is part of a historical complex of hotel, bar, marina and eateries. The wine list? Okanagan focused, of course.
Waterfront Wines Restaurant, 104-1180 Sunset Drive: Check out the list of local farmers who supply everything from beef to honey to this award-winning eatery. The staff is well trained in helping you pair a fine Okanagan wine with the signature dishes of the house or some of the best tapas this side of Spain.