Historic packinghouse houses orchard museum
The B.C. Orchard Industry Museum in Kelowna is found in a designated heritage building
by Sandra Albers —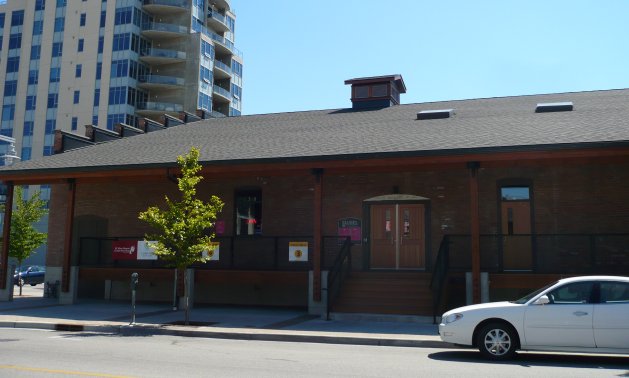 The B.C. Orchard Industry Museum in Kelowna is housed in a building that is, in itself, something of a museum piece.
The orchard industry museum on Ellis Street is found inside the walls of the historic Laurel Packinghouse, one of Canada's oldest and largest standing packinghouses.
Even more convenient, the Laurel Packinghouse building is also home to Kelowna's B.C. Wine Museum and VQA Wine Shop.
The packinghouse is a nationally designated heritage landmark. It was built over the winter of 1917-18 of bricks made locally from clay found on nearby Knox Mountain. It was a working packinghouse until the 1970s. In 1982, the Laurel Packinghouse was slated for demolition but, thanks to the efforts of the Kelowna Museums Society, the building was saved and became Kelowna's first designated heritage building.
Restoration of the building took about six years. In 1989, coinciding with the 100th birthday of the B.C. Fruit Growers' Association, the B.C. Orchard Industry Museum was officially opened.
In days of yore
When I browsed around the orchard industry museum on a recent visit to this central Okanagan Valley city, I was intrigued by the displays of vintage equipment, such as a cherry pitter patented in 1920.
Have you ever thought about picking fruit for the summer in the Okanagan? Well, you can try on a picking bag for size at the museum, then imagine how heavy it might feel once it is full of apples or, perhaps, pears.
The B.C. Orchard Industry Museum contains other engaging displays on pruning, irrigation and box making, to name a few. There's even a live educational beehive; check it out and see if you can find the queen bee!
The orchard industry has changed a good deal over the years. The biggest difference between pioneer orchards and the modern ones is size and spacing of trees. Historic orchards had much larger trees and wider spacing. By contrast, many of today's orchards (as you will notice when you drive through the Okanagan Valley) favour high density crops with much smaller trees in narrower rows.
Although the modern orchards are certainly more efficient, and the lower-down fruit easier to pick, the historic photos showing orchards of yore on this museum's walls are quite lovely to contemplate.
Apples, cherries, peaches, pears, apricots and plums are the primary crops of the Okanagan, Similkameen and Creston valleys.
The B.C. Orchard Industry Museum at 1304 Ellis Street, one of a number of museums operated under the Kelowna Museums banner, is open Tuesday to Saturday between 10 a.m. and 5 p.m. Admission is by donation.
Resources: