Farms, food and fun in Kelowna this summer
Explore working farms and then sample their produce in participating restaurants
by Lisa Crane —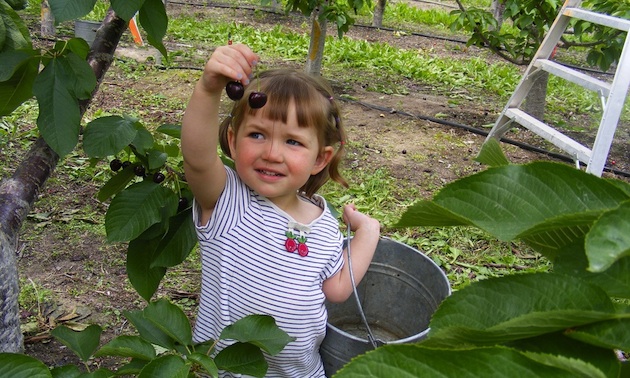 Just imagine exploring Kelowna's farms with your kids and then taking them to a local restaurant that evening—and seeing that very same farm's produce on your table. You can't get much better than that.
Catherine Frechette, communications manager at Tourism Kelowna, said that is where agri-tourism in Kelowna is heading this year. The Farm to Table program offers families and tourists the opportunity to explore working farms and then sample their produce in participating restaurants.
Farm to table
"This is a brand new aspect for tourism this year," said Frechette. "The farm experience will offer everyone, especially kids, an opportunity to learn about either animals or some kind of food production. It can be a very personal experience that will be remembered forever."
Frechette said that both farmers and chefs are very excited about Farm to Table.
"We have lots of participating farms and they are very diverse, from orchards for u-picking or fruit stands for fresh produce for picnics at your RV. It is all well-established in the area," she said.
Local fun
"Kelowna has been a hub for food production for a very long time," said Frechette. "At one point it was one of Canada's main fruit exporting regions, so the lifestyle here is very much focused on buying local."
The Kelowna Farmers' and Crafters' Market is the biggest farmers' market in British Columbia, and is a fantastic activity for kids. It has a great variety of arts and crafts, food and produce. There is something for everyone.
Besides agriculture, kids are sure to enjoy one of the 30 beaches in Kelowna and area. Go for a bike ride at the world-famous Myra Canyon, then experience a great meal out where you can sample the produce that you discovered that day.