A taste of the Okanagan
The B.C. Wine Museum in Kelowna is a tasteful space, and the wine's not bad either
by Sandra Albers —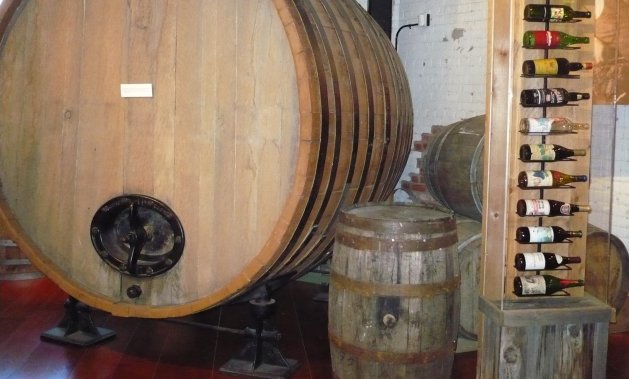 The Okanagan Valley has long been known for its production of fruit. But it's no slouch when it comes to wine production, either. In fact, on a recent visit to the central Okanagan city of Kelowna, I counted 30 or so wineries listed in a Tourism Kelowna visitors guide. There are also several breweries, cideries and distilleries, if those are more to your taste.
Before I go any further, I must confess that I am not an expert wine connoisseur. Oh, I can tell the difference between a decent wine and a cheap plonk, but I wouldn't say I have super-sophisticated tastebuds.
Nevertheless, when in Kelowna, one should do as the Kelowna-ites do, and that meant sipping the local wine.
An easy way to do that is to visit the B.C. Wine Museum & VQA Wine Shop on Ellis Street in downtown Kelowna. The wine museum is located in the historic Laurel Packinghouse, which also houses the B.C. Orchard Industry Museum.
Small but sweet
At first glance, the wine museum seems quite tiny; most of the floor space is, indeed, taken up by the wine shop. Not surprising, since the shop lists over 600 British Columbia VQA (Vintners Quality Alliance) wines. Still, the museum itself is a lovely, tastefully-designed little museum, with all sorts of interesting information on tap, so to speak.
For instance, I discovered that it was a Roman Catholic priest, Father Charles Pandosy, who planted the first vineyard in Kelowna, beginning small-scale wine production at the Oblate Mission in 1859.
However, it is Jesse Willard Hughes who is considered the father of the commercial Okanagan wine industry. He arrived in the Okanagan, via Iowa and Olds, Alberta, in 1917, and grew his first grapes in 1926. Hughes grew apples too, and founded the Cascade Fruit Company (with A.E. Hill and R.J. Stewart). He also grew and shipped cucumbers, asparagus and raspberries.
Nor did Hughes stop at fruits and veggies. The businessman had a charitable side to him, too, devoting one plot of land to growing tulips, gladioli and peonies, and donating the flowers to Rotary clubs across Canada to distribute to hospital patients and those receiving in-home care.
Kelowna's B.C. Wine Museum also has a display of ancient wine vessels, cooperage tools and barrels, a History of Wine exhibit that delves back as far as 6000 BC, and a photo display that details A Year in the Vineyard and A Year in the Cellar.
Red or white?
The B.C. Wine Museum offers free daily tastings and monthly wine tasting events.
So, naturally, I sampled both a white and a red.
The white was a Saxon Estate Pinot Gris 2012, which I was told was organically grown and hand harvested. Dry, with a light straw colour and medium body, this wine had a hint of ripe grapefruit. It apparently goes well with pork chops or bratwurst served with an alfredo pasta and green vegetables. I'll take their word for it!
The red that I tried was the Cakewalk 2010 Merlot from Kraze Legs Wines (love that name!). Its tasting notes include black cherry, currents and stewed plums, along with caramel, cloves and espresso. Did I detect all of those? No, not exactly, but I know what I like and I quite liked this one.
It's meant to be served with roasted meats, baked lamb chops or winter stews.
This merlot, which was small lot fermented and aged for 18 months in French oak barrels, won silver medals at the 2012 Canadian Wine Awards and the 2012 InterVin International Wine Awards.
The cakewalk, by the way, was a popular "prancing dance" in the early 1920s that dates to 1700s plantations. The best dancers were said to "take the cake."
The B.C. Wine Museum, 1304 Ellis Street, is open Monday to Saturday from 10 a.m. to 6 p.m., Sundays and holidays from 11 a.m. to 5 p.m.
Sip and savour
Another place that offers tours and tastings is Okanagan Spirits on Bernard Street, just a hop, skip and a jump from the lakeshore on downtown Kelowna's main street.
This craft distillery is a 2013 World Spirit Award winner, and has also won assorted awards for its brandies (plum, apple, etc.), liqueurs (cherry, raspberry), its Taboo absinthe and its Aquavit.
Resources: