Following a free spirit
Choosing to take the road less travelled, silversmith Sebastian Halyard and his travelling companions, Meadow and Onyx, follow the geese and the seasons in a quest to avoid the status quo and live simply and for the moment.
by Tanya Laing Gahr —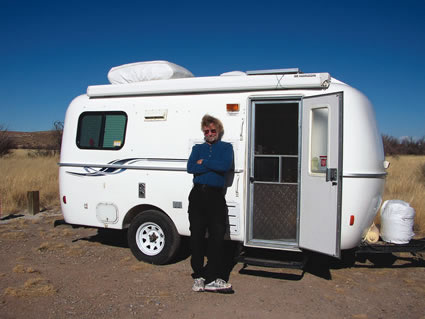 Sebastian Halyard is not your typical RVer. He doesn't consider himself a traveller by nature, even though he has been living a nomadic lifestyle full time since 2006. He's not driven by a desire to see sights that draw tourists to an area. And when he made the choice to live life on the road, he sold his more luxurious fifth wheel and bought a much more compact 2001 Casita—what he called one of the best investments he's ever made. He now tows it with a 1991 Jeep Cherokee across many of the southwestern states. But he's quick to point out that it's not his primary mode of transportation.
"Most of my travelling is in my hiking boots," said Halyard. "I like to drive only about 100 miles, set up camp for a few days, and explore the area. If there aren't any trails, I generally just go off trekking around the countryside. I want to see what cannot be seen from the road."
Halyard is living what he calls "the bucket life," based on The Bucket List, a movie about two men with cancer who set off across the world with a list of things they wish to accomplish before they die. After a bone marrow transplant, Halyard decided that he wanted to return to an active lifestyle—trail running, camping, mountain biking, cross-country skiing and sailing—and, as he said, "to bag the status quo mindset."
"I don't do this lifestyle for the travel to see the sights but rather to live out in nature," he said. "That's why I do not so much live in the trailer as just outside of it and follow the geese."
Like the geese, Halyard has a rhythm to his year. He makes a regular loop through Arizona, Utah, Colorado and New Mexico, taking different routes and catching up with old friends. Halyard said he prefers to set up camp off the grid on public lands—although this past winter's cooler temperatures were enough to convince him of the benefits of electrical hookups and reliable heat. When he finds his spot, Halyard establishes a base for himself for a week or 10 days and sets to thoroughly exploring the area. He claims to have put more miles on his hiking boots, running shoes and mountain bike than on his Jeep Cherokee.
In the easy silence
"(I like) the solitude, the uncertainty, independence, resourcefulness and self-reliance of this lifestyle," said Halyard. "I like not having all the clutter that can keep one from being more in touch with life."
Indeed, the simple life is one of the strongest appeals for Halyard. He finds the greatest pleasure in day-to-day activities that many of us tend to take for granted, because he lives in the moment. He enjoys travelling the back roads, where he often meets people cut from the same bolt of cloth: sightseers looking for the quieter beauty far from the highway.
"There's nothing much not to like about it," wrote Halyard in one of his travel blog entries. "The freedom of being able to pull up anywhere one wants—mountains, desert, lake, wherever—(and) set up and have one's front yard different every time . . . it's a stellar life. One does not even have to travel extensively (to) see a whole lot of new areas—one just needs to see with new eyes."
Of course, Halyard isn't a complete recluse. He has two constant travelling companions: Meadow and Onyx—two cats that he adopted from animal shelters. They have turned out to be well suited to the nomadic life. Halyard said they sleep in the Jeep until the ride starts to get a bit rough—usually because Halyard has turned down a seldom-used dirt road—and then they wake up and start watching out the windows. The furry tourists thoroughly inspect their new digs but never stray far from camp.
"They don't run away because their home is right there," said Halyard. "It works really well."
The craftsman at work
Halyard grew up in New Jersey before moving to Utah in 1981. He was a teacher for 20 years, teaching shop and computers at the elementary and middle school levels. He also taught silversmithing classes in the local school district community education programs and in the lifelong learning program at the University of Utah. It is in silversmithing that Halyard found his true passion.
"I have used many techniques over the years, but (I am) pretty much a purist when it comes to working with silver," said Halyard. "I have limited myself to the use of hand tools and sheet silver. To take a flat sheet of sterling silver and saw, bend, shape, forge, solder and polish until it changes into a piece of art is a stellar experience."
Halyard's silver pieces are an extension of his artistic and spiritual nature—simple and beautiful. He started using the metal in the early '70s when he was working toward an industrial education degree, and found himself taken with the colour and light-reflecting qualities of silver. Each piece is unique, using simple designs and techniques. He sells his work in galleries and on the road.
Besides providing him the ability to be continually creative, Halyard's art gives him an income that allows him to keep exploring the trails. As well, he never passes up an opportunity to instruct a class in silversmithing; in 2008, he taught a class at the Kimball Art Center in Park City, Utah. He estimates he only needs to work four months of the year to sustain his lifestyle. It's not bad work if you can get it.
The artist's way
In the near future, Halyard plans to explore the backcountry of places he hasn't yet visited: the countless hiking trails throughout Idaho, the mountain terrain in British Columbia and the larger-than-life Yukon. There is no set time schedule for these ventures, however; it depends on when the geese go.
"I look at life as an hourglass," said Halyard. "There is a limited amount of sand and it only runs one way. You had best be living the life you truly want . . . and always have a few jokes handy—I get a charge out of getting someone to chuckle."