Indio gives visitors a reason to celebrate
Enjoy fun, food and music at Indio's famous festivals
by DaleAnn Shellborn —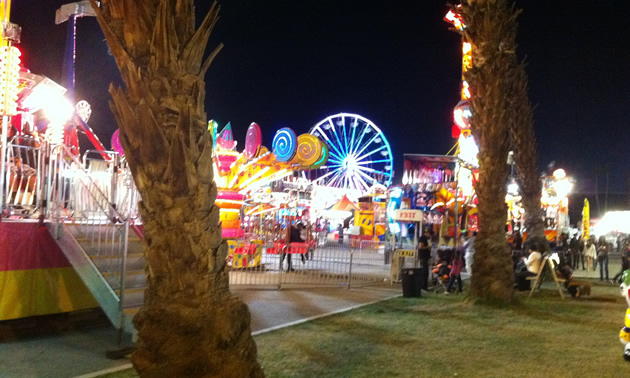 The heart of Indio, California, can be found at its many festivals, said Coachella Valley resident Victoria Bailey.
"You could come here at any time and there's always something going on," said Bailey. "Whether it's at the polo grounds, in the streets of the downtown area or at the fairgrounds, there's always something to do in this city."
As the owner of Desert Springs Publishing, Bailey has researched the history of Indio and nearby communities and is currently working on a cookbook for the California Date Administrative Committee. That's apropos, since Indio is the place where most of the dates sold in the United States are grown.
"We have the International Date Festival every year in February," said Bailey. "We have a date museum at the Coachella Valley Museum. And you can go to Shields Date Garden and watch a movie about the sex life of the date."
The hot, dry climate in the Coachella Valley is perfect for growing dates. In fact, Indio's history is completely tied up with agriculture.
"Indio began as a stop on the railroad line between Yuma and Los Angeles," Bailey said. "The railroad came because the growers needed to get their products out of the valley, and the town grew because the railroad was here. Indio is the largest city in the Coachella Valley—and the oldest city. It's older than Palm Springs, so of course it has the most history."
Bailey also recommends Indio's Tamale Festival, held the first weekend of December. TV's Food Network has named this celebration one of its top 10 all-American food festivals. Visitors can watch Mexican dancers and sample all kinds of tamales.
"It's held on the local streets of the downtown area," said Bailey. "It's like a downtown market. You can walk around, see the exhibitors, businesses are open. We even hold the record for the world's largest tamale."
Then there's the Coachella Valley Music and Arts Festival, held annually at Indio's polo grounds. This event is famous for attracting some of the biggest names in popular music, not to mention celebrities who like to mingle with the musicians—it's where movie star Kate Hudson met her fiancé, Matthew Bellamy of the alternative rock band Muse.
"It's internationally known," said Bailey of the music festival. "It has grown so much (that) they're going to have it for two weekends. You see everyone from Paul McCartney to Madonna. People even come from Europe for it."
If rock music isn't your style, stick around Indio for the cleverly named Stagecoach Festival one week later to see the biggest names in country music.
"It attracts a bit of an older crowd," said Bailey. "There are a lot of campers and RVs."
Of course, all of the festivals are possible because of the sunny, warm days during the winter months in Indio.
"We're so blessed," said Bailey. "We just have wonderful weather. We're surrounded by beautiful mountains and we just have the best weather."