Wild delicacies in Hudson's Hope
This tiny community lies in an area abundant with wild game, fish, berries and honey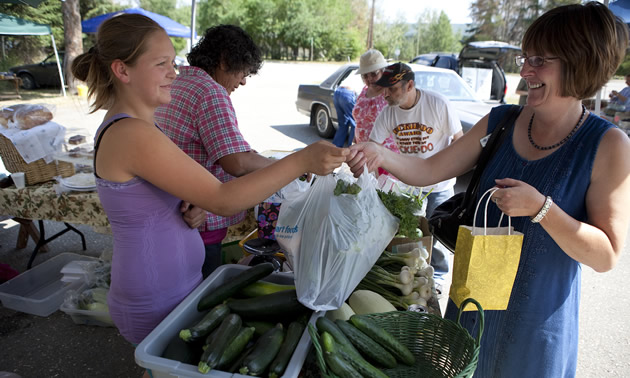 Hudson's Hope, B.C.—population 1,200—is surrounded by wilderness full of elk, moose and deer. The area is criss-crossed by rivers and dotted with lakes, all teeming with fish. Those lands also produce many varieties of delicious wild cranberries, strawberries, chokecherries, blackberries and mountain blueberries—also known as huckleberries.
In 1987 the Hudson's Hope Historical Society produced a cookbook featuring local ingredients, including cuts of moose, elk and fish as well as wild berries.
"There are venison recipes too," said Elinor Morrisey, manager of the Hudson's Hope Museum, "though most people around here prefer moose and elk to venison."
The museum library has a copy of the historical society's cookbook, and the gift shop sells a number of other cookbooks featuring the area's game and wild fruit.
Summer market delicacies
On Tuesday afternoons during the summer, Hudson's Hope presents a small, popular farmers market across the street from the town's visitor centre. Local entrepreneurs sell crafts, vegetables, fresh wild berries and domestic raspberries in season, berry pies, preserves and—if the winter has been kind to the bees—pure, unpasteurized honey.
"The biggest challenge is keeping the bees alive through the winter," said Guy Armitage, a local small-scale beekeeper. "There are lots of pests and disease, too. Last summer we had a problem with wasps trying to get into the hives—they were everywhere."
Bears are another challenge for beekeepers, and Armitage said that they can be almost unstoppable when they've had a taste of honey.
When you're planning your summer ramble, consider a trip that includes the wild and beautiful British Columbia Peace Country, with a stop in Hudson's Hope to taste the sweet fruits of summer.