Top things to see and do in Hope
Rambo, chainsaw carvings, hiking—Hope offers plenty to do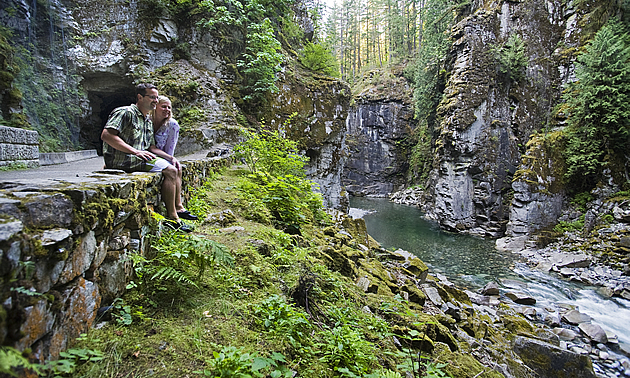 Scratching the surface of Hope, B.C., is enticing on its own. Look a little deeper, though, and you'll discover ways to truly appreciate the area. Here are five great options if you're looking to maximize your time in Hope.
1) Explore the Othello-Quintette Tunnels
A delightful 45-minute stroll will allow you to discover the Othello-Quintette railway tunnels. The trail provides excellent views and picturesque scenery. The tunnels were part of the Kettle Valley Railway, and were completed in 1916. This worthwhile stop is only 15 minutes from downtown Hope, and is open April through October. For more information visit the tunnel's BC Parks web page.
2) Chainsaw Carving Capital
Hope has a stunning collection of chainsaw carvings that you can explore at your leisure. The town now features more than 50 pieces, many of which were created by local artists Pete Ryan and Randy Swope. A favourite subject of these carvings is wildlife from the area. You can pick up a walking-tour map of the carvings from the visitor centre.
3) Hope Arts Gallery
Visit the Hope Arts Gallery to find a small gallery full of big talent. This venue showcases many local artists who have mastered a variety of skills. Browse paintings, photography and pottery from the area. Perhaps you'll find the perfect souvenir. Admission is free and the gallery can be found one block from the main thoroughfare at Wallace Street.
4) Enter the world of Rambo
Anyone who is a Rambo fan is bound to recognize some of the areas around Hope. The town was the big screen birthplace of the film series. Film fans can take advantage of the opportunity to track down specific scenes from First Blood. See where Sylvester Stallone hung precariously from Coquihalla Gorge, or where Sheriff Teasle's office was. A free map of filming locations is available at the visitor centre.
5) Hiking in Hope
Hope is surrounded by natural beauty that will entice you to explore. Trails are available for all skill levels. The Fraser Canyon is one scenic possibility, but check out the Hope Mountain Centre website for more ideas. You can also pick up a free trails map from the Hope visitor centre and get active while enjoying the stunning views.