Harrison Hot Springs inspires creativity in artists and photographers
"I think the main reason creative people come here is the landscape"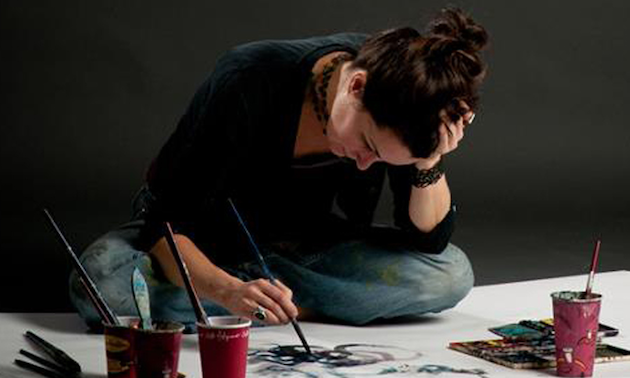 A self-styled city girl, visual artist Siobhan Humston said that when she began her one-year residency at the Ranger Station Art Gallery in Harrison Hot Springs in September of 2012 she assumed she would be returning to Vancouver the next fall. Now at the halfway point of her program, she said that although she misses the energy and "collective creative consciousness" of the city, she might not go back to Vancouver like she had planned.
"It's been amazing here. I've been so close to nature," said Humston. "I still love going back [to Vancouver], but it doesn't quite feel like home now. I thought it would be the place I'd be forever, but I think because my work is based on nature it makes sense to be a little more surrounded by it."
Surrounded she is. The heritage building where her residency is based backs on to gardens, beach and Harrison Lake. The walls of her cozy, loft-like second floor studio are complemented by windows that look onto the coastal mountain range and large abstract drawings and paintings with delicately applied dried acrylics and watercolours, organic and transcendental.
Humston said it has been this "containment of the landscape" that has invited introspection and influenced her future plans.
"When you're at this end of the lake you're kind of contained by the landscape, you're not looking at more hotels and more streets and more houses," she said. "You can kind of imagine a time when there were no hotels, no people. It's easy to kind of escape. I've been watching how the seasons change, how the water looks different in the winter and cresses that are made in the sand as the water withdraws, things I don't make time for in the city."
She said the residency has allowed her to explore adding a new element to her drawings and paintings: "a cacophony of man overtaking nature" where man-made elements juxtapose her abstract interpretations of the outdoors.
"Last January I was evicted from this huge studio by the city [of Vancouver]" said Humston. "The city said the building needed a sprinkler system and we didn't want to put in a new sprinkler system. It was at that time that I decided I wanted to add man-made elements to my work, to the natural elements.
"Being displaced, being kicked out of my place, I was really struggling to find a place in society to do my work, which is about nature," she said. "That idea of me feeling displaced opened up this idea that we're all a little bit displaced when we're living in urban centres, we're all a little bit displaced from being one with our core, which I think is being one with the earth or nature. If we weren't as displaced, if we had more respect for nature, if we spent more time walking in the woods and gathering our thoughts and respecting the earth from which we come and to which we go, maybe we wouldn't be at odds with the environment or with ourselves."
Elements such as houses and automobiles now appear in her drawings and paintings, which will be shown in a solo show at the gallery in June along with photography and a totemetric sculpture built using found, unrecyclable objects.
"I've always taken photographs, but not to this extent," she said. "There are so many walking paths, there's so much history, there's a lot of native history in the area. Right behind the hotel there's this little walkway. It's two minutes away from the hotel and you don't see the hotel and there are these amazing waterfalls. If you take a picture it looks like you're in the jungle. I've been going out and taking hundreds of photographs in one walk. I would say I have taken maybe 7,000 photographs since moving here in Harrison."
Humston has formatted the aesthetics of the landscape photos she has taken, duplicating them and aligning them back-to-back to create a vertical linear "totem" design.
"I think the main reason creative people come here is the landscape," she said. "If anyone's interested at all in landscape painting or photography, it's just unbelievable what's out here. The weather changes quite fast so you can get a bunch of different patterns coming in through the day.
"It's amazing. Even if you're here for two nights you can immerse yourself in a pretty spectacular landscape very easily and that can be very inspiring for anyone with a creative soul whether it's writing or music or visual art."