Immerse yourself in history
The Kilby Historic Site will give you a taste of B.C.'s rural heritage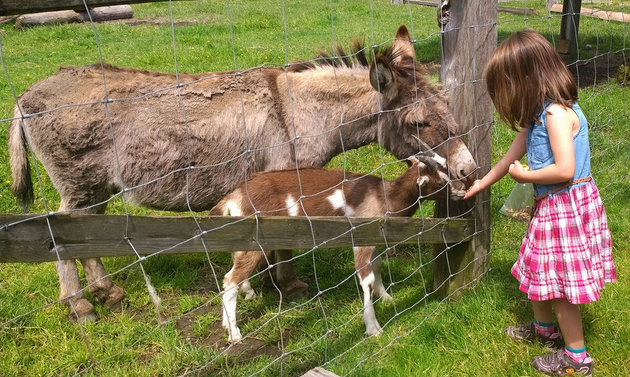 If you're travelling through the Harrison Mills area, you should plan to make a day trip to the Kilby Historic Site. Located near the junction of the Harrison and Fraser rivers, the Kilby Historic Site allows guests to step back in time and experience 1920s life in the Fraser Valley.
There are costumed interpreters and two hectares (five acres) of property, which incorporate a 1906 general store museum, the Manchester House Hotel, a post office and a working farm with adorable farm animals. You can also stop at the home-style restaurant for a meal or shop at the country gift store.
RV-friendly accommodations
Kilby Park is available to campers year-round. The campground has 35 sites, a day-use area, nature trails, a boat launch and sandy beaches to enjoy.
You can find the campsites at the west end of Kilby Road. It is within walking distance of the historical attractions, so you can venture out as soon as you've set up camp.
Hours and fees
2017 Museum, café and gift shop hours
April 15 – May 14: Weekends only from 11 a.m. to 4 p.m.
May 15 – June 28: Thursday to Monday 11 a.m. to 4 p.m.
June 29 – September 4: Open daily 11 a.m. to 4 p.m.
September 5 – October 29: Weekends only from 11 a.m. to 4 p.m.
November 18 & 19: 11 a.m. to 4 p.m. (Fraser Valley Bald Eagle Festival)
December 9 & 10: 11 a.m. to 4 p.m.
Museum admission
Adults: $10
Seniors: $9
Youth/students: $8
Children (5 years of age & under): Free
Family: $25
BCAA/AAA members receive a 10 per cent discount.
Season passes:
Adult season pass: $22
Senior season pass: $20
Family season pass: $60
A season pass grants the holder free, unlimited admission to the Kilby Historic Site for one full year.
Kilby Park reservations/fees
Reservations
From April 3rd to October 3rd there are 11 sites that are available for reservation. The reservation desk will be open Monday and Tuesday only between 10 a.m. and 3 p.m. Otherwise, campers are welcome on a first-come, first-served basis.
Campground fees
January 1st to February 28th: $15
March 1st to May 14th: $25 (Senior rate $20)
May 15th to September 30th: $30
October 1st to 31st: $25 (Senior rate $20)
November 1st to February 28th, 2018: $15
Boat launch: $10
Day use picnicking in the campground—shoulder season only: $10