Fort Nelson: a photographic gem of the north
Explore this area of raw, natural northern beauty
by Colin Payne —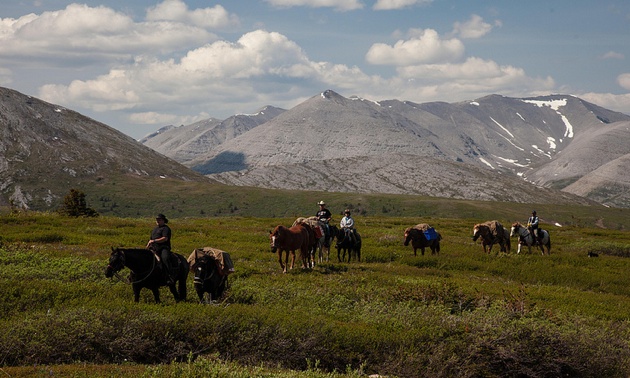 Located in the far northeast corner of British Columbia, amidst the most northerly peaks of the Rocky Mountains, the scenic Alaska Highway and the incredible Muskwa-Kechika Management Area, Fort Nelson is a must-see gem of the north that you will want to capture with your camera
Photographer Wayne Sawchuck has spent many years capturing the beauty of the Fort Nelson area with his camera and has a few suggestions for the best photo opportunities in his area.
Wildlife on the Alaska Highway
Photo op: Anywhere along the Alaska Highway north of Fort Nelson is a great location for capturing great photos of magnificent boreal wildlife, including caribou, moose, elk, stone sheep, grizzly and black bears, wolves and bison. You can often pull off the road in your vehicle and photograph animals on the side of the road.
How to get there: Simply follow the Alaska Highway (Highway 97) north from Fort Nelson until you see what you're looking for. Liard River Hot Springs Provincial Park, about 200 kilometres from Fort Nelson, offers great opportunities to photograph migrant birds and immense bison.
Photo tips: Sawchuck suggests bringing along a good long zoom or telephoto lens of at least 400 mm to successfully capture good photos of wildlife. He said that any time of the day is fine, except in the heat of the day during summer, but early mornings and evenings are the best.
Muncho Lake Provincial Park
Photo op: Sawchuck calls Muncho Lake the Switzerland of B.C. and notes that it's a great jumping-off point to explore the backcountry of the area, which offers some of the most pristine wilderness remaining on the continent.
How to get there: Drive the Alaska Highway north from Fort Nelson for just under 200 kilometres until you see signs for Muncho Lake Provincial Park, then just follow the signs to explore the area.
Photo tips: Sawchuck said any time of year is great for photographing Muncho Lake, but summer and fall are the best. The best time of day for photos is early in the morning or later in the evening, when you will get great sunrise and sunset light.
Steamboat
Photo op: If you are looking for a viewpoint near Fort Nelson, this is it. See the southern Muskwa River and the expanse of the northern Rockies spread out before you from this spot.
"The whole horizon is taken up by a sea of mountains," Sawchuck said.
How to get there: Steamboat is located at Kilometre 552 (Mile 334) on the Alaska Highway, just northwest of Fort Nelson.
Photo tips: Sawchuck said Steamboat is wide-angle country. You'll want a lens that's at least 24 mm to capture the grand vista offered here. Morning is the best time to photograph the area, as the light from the rising sun will illuminate the mountains, but the scene is equally spectacular at season or time of day.