Eating healthy in Fort Nelson
Down to Earth Health Shop and Café works hard to make healthy food delicious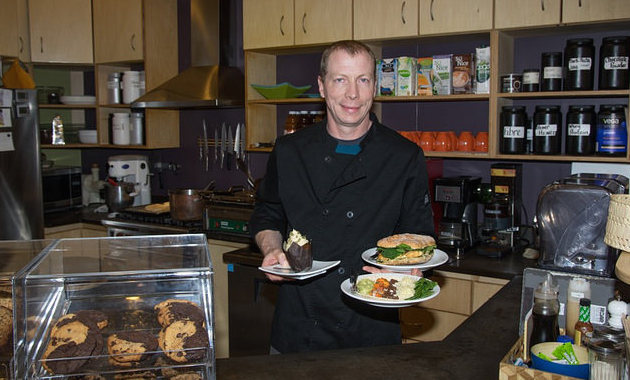 Kym Gillett owns Down to Earth Health Shop and Café with her husband, Kevin Friesen, in beautiful Fort Nelson—a seemingly unlikely place for a successful and thriving health food store, given its remote location and the population holding at a steady 4,000.
The couple purchased the shop in 2007 and set out on a mission to bring healthy living and eating to the community built mainly on natural resource extraction. Because produce is seasonal and access to certain foods sporadic, the café's mission has been to create, rather than copy, a local flavour based on making healthy eating attainable and "normal."
After a business rebuild, the couple set their sights on expanding the shop to include a café. Before long, Friesen, a turbine mechanic by trade, was serving up decadent vegetarian gourmet dishes that had all the locals fooled.
"One thing we were really trying to achieve was to make healthy food normal and let people know how delicious it can be," said Gillett. "It is so good, most people who come in day after day don't realize it is even vegetarian."
Friesen has found his foothold in gourmet cooking. He draws inspiration from the couples' travels where it isn't uncommon to see him taking local cooking classes or wandering into restaurant kitchens to learn the tricks of cultural cuisines.
"He learned in India how to put flavours together and use certain spices," said Gillett. "We've also been to Mexico, the Caribbean, Costa Rica, India, Africa, Indonesia, Chili and Peru, and all of those influence the menu, which changes every day."
Besides the Pizza Slab–delectable pizza on hand-tossed dough–and a few other staples, the menu changes both for variety and to demonstrate how easy healthy eating can be.
"Because of our location, we only have access to certain things at certain times of the year," said Gillett. "When he decides the menu, he is taking ingredients right off of our shelves and creating delicious healthy food so people see that living healthy can also taste good."
Down to Earth Café has become an intrinsic part of Fort Nelson's community fabric, as evidenced by the company's success regardless of local economics.
"Even in a downturn we are able to operate at full strength, and that is a good sign that we've done a good job of letting people know that healthy food can be comfort food and easily part of everyday health," said Gillett.