Discover Mile 300
Discover how the history of the Alaska Highway and the Town of Fort Nelson are forever intertwined.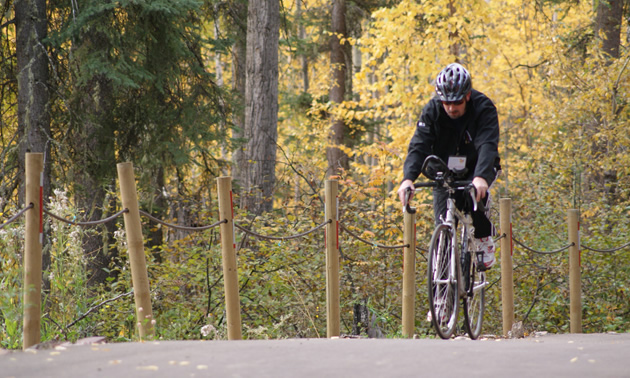 The town of Fort Nelson sits at the Historic Mile 300, one of many mileposts on the famous Alaska Highway. Here you'll not only discover the history of the highway and its incredible construction, which dates back to World War II, but also the many ways to have fun in the surrounding boreal forest and the great talent that its residents exhibit—both literally and figuratively.
Fort Nelson Heritage Museum features historic buildings from the area's early days as an actual fort. The museum is better known for its transportation theme and wide assortment of antique vehicles. It gives visitors a glimpse into the lives of those who helped build the Alaska Highway, and the many hardships they faced along the way.
The demonstration forest is located on the northwest side of town, and provides visitors with a 4.7-kilometre self-guided forestry lesson. With interpretive signs lining the chipped pathway, you can discover the hidden secrets of the boreal forest and the wildlife that lives there.
Fort Nelson's Art Walk is a celebration of local artisans that lasts from late June until early September. It is hosted by the Northern Rockies Community Arts Council, which offers a published guide and map of the various businesses acting as gallery venues located around the town. Showcasing a variety of art mediums, the event transforms regular retail businesses, public buildings and restaurants into living galleries that are just waiting to be explored.
For birders and nature lovers of all stripes, Parker Lake offers the chance to have a quick paddle around the lake or to take in the sights and sounds of the numerous bird species that live there. A wetland conservation zone with a birdwatching wharf, it also has a nice picnic area and lies just north of town at Mile 308.
If you're looking for a relaxing amble or bike ride around the community of Fort Nelson, the recently opened Community Trail is waiting. A paved pathway with eight access points, it offers the experience of a walk in a forest setting, without ever having to leave the townsite.