I scream . . .
Italian and Mexican cuisine abound
by Kali Love —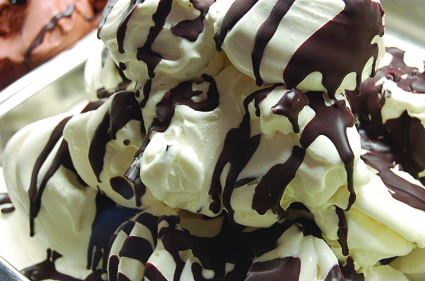 Francesca Carozza, the communications director for the Fountain Hills and Fort McDowell Visitors Bureau, said that there are plenty of fantastic, culturally diverse restaurants in the region. In Fort McDowell, the Ahnala Restaurant in the Radisson Resort uses fresh produce from a local nut and citrus farm. Coming soon to Fountain Hills will be a Caribbean- and Puerto Rican-inspired tapas restaurant. There are numerous Italian and Mexican restaurants in the area as well.
A highlight for Carozza is LaScala's Creamery in Fountain Hills. The people who own the creamery brought in an Italian gelato master who taught them the tricks of the trade.
"They have perfected making gelato (an Italian, sherbet-like ice cream)," said Carozza. "It is the best gelato that I have had outside of Italy. They do one that has young coconut . . . Seasonally, they will do things like roasted pumpkin."