Walking and wheeling around Florence
Choose urban or wilderness—or anything in between—to discover the wonders of Florence
by Patti K. Phillips —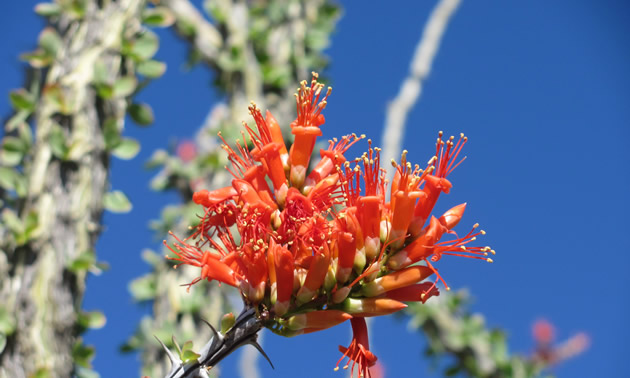 Walking Florence is the best way to get a real sense of the community and its history. An easy-paced 1.5-mile loop winds through the town on a self-guided tour of Florence, the sixth oldest town in the state. If you have trouble reading and walking at the same time, an audio tour is available. The tour can also be done by car or bike. The tour brochure guides you through time to give you a taste of the town and the region's history, pointing out seven diverse architectural styles that date back to 1866. In fact, one of the community's heritage buildings, the 1878 Courthouse, houses the Florence Visitor Center.
Unusual desert features
Jennifer Evans, manager of the centre, said one of her favourite places to hike is the Superstition Mountains, situated 25 miles from Florence. She goes for the views.
"The vistas are so beautiful, " said Evans, explaining that this is a very rugged volcanic mountain range.
She said there is an extensive trail network through the Superstition Wilderness area, covering over 160,000 acres in the Tonto National Forest.
"This is pristine Sonoran Desert; there are huge saguaros, even waterfalls—most people don't associate water with the desert," she laughed.
Evans recommends hiking with someone who has some knowledge of the area. Alternatively, a trail guide is available at most bookstores in Florence and at the visitor centre's gift shop. Evans reminds visitors to ensure safe hiking practices, such as carrying enough water as well as sunscreen and appropriate clothing and footwear. Of course, having an awareness of the desert critters and flora that can give you trouble is a given.
For those wanting something a little less adventurous, Evans suggested checking out Dutchman State Park at the base of the Superstition Mountains. This park has well-marked trails and offers interpretive programs conducted by park rangers. Visit the park website for more info or phone Arizona State Parks at 1-800-285-3703.
Another favourite hiking area explored by winter visitors and residents alike is the Arizona Trail system. Accessed about 30 miles from Florence, the trail system is 800 miles long, from the Utah border to Mexico, said Evans. Of course, you don't have to hike the whole thing, but if you are interested in even part of the historic trail, more info can be found by contacting the Arizona Trail Association.
Get into the backcountry on wheels
The Arizona landscape near Florence is a diverse terrain that provides desert, canyon and mountain scenery—some of which is best accessed by ATV or a four-wheel-drive vehicle. If you have your own four-by-four or ATV, check out the Arizona public lands north of Florence. A State Land Department recreation permit is required for most of these areas and is available by visiting this site or the Public Lands Information Center. Well-marked trails weave through state lands and trail guide booklets are available to purchase to help you map your route. If you don't have an ATV with you, you might want to head out with Arizona ATV Adventure Tours. This company offers a half-day Box Canyon Tour, which covers 40 miles including highlights from Native American sites, an historic stagecoach way station and the captivating Slot Canyon, where the walls are just a few feet away. Tours leave twice daily out of Florence.