Time stands still in this desert town
Things to see and do in Florence, Arizona
by Denis Begin —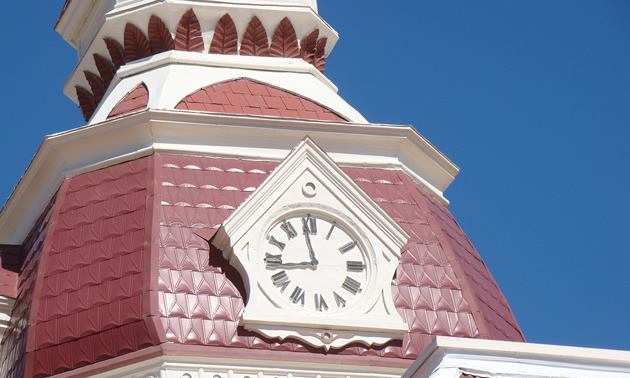 My first memory of Florence, Arizona, was based on the movie Murphy's Romance. The 1985 picture by Columbia Pictures was shot on Main Street and around Florence. This romantic comedy features Sally Field as Emma Moriarty, who moves to Florence to start a new life and a horse business. Pharmacist Murphy Jones (James Garner) plays her new love interest, but Emma's former husband, Bobby Jack Moriarty (Brian Kerwin) will just not go away. The movie has a western feel and showcases the people of Florence. But there is a big difference between Hollywood and reality.
Located 60 miles (100 km) southeast of Phoenix, Florence appears to be a peaceful city of 9,000, serving the farming and ranching community. The name Florence most likely comes from the daughter of Levi Ruggles, who founded Florence in 1866. The McFarland State Historical Park at Main and Ruggles is the site of the original town. Various men from Florence have made major contributions to the growth of Florence and Arizona. It was Charles Poston, Father of Arizona, who convinced President Lincoln to separate the New Mexico and Arizona territories. Four local men became territorial or state governors. At one time Florence was larger than Phoenix, but without a major railroad the town had to find other ways to survive and prosper. Prisons seemed to make good economic sense.
Many cities adopt a pleasant slogan such as the City of Roses, but Florence is unofficially known as the City of Prisons. There are 13 state prisons in Arizona under the jurisdiction of the Arizona Department of Corrections. Florence has 9 prison complexes holding 17,000 inmates. The Florence State Prison is responsible for state executions.
What is there to see other than prisons?
1. McFarland State Historical Park
The McFarland State Historical Park building was constructed in 1878 and is listed on the National Register of Historical Sites. It was the first courthouse, then a hospital, public health/welfare center and museum. The park also includes a picnic area. The main building is now the visitor centre and features the archives of the life of Ernest W. McFarland, (1894-1984), one of the most famous people to call Florence home. McFarland was Pinal County Attorney, a U.S. senator, majority leader of the U.S. senate, governor of Arizona and chief justice of the Arizona Supreme Court.
2. Pinal County Historical Society Museum
The Pinal County Museum located on Main Street is a outstanding local museum. The displays include Hohokam artifacts, guns of the Civil War and Apache wars, saguaro cactus furniture, a square grand piano, 28 hanging nooses, a two-seater gas chamber chair and information on local POW Camps during the Second World War. I learned that some famous people are part of Florence history: Tom Mix, Gene Autry, Ira Hayes, Charles Poston, Pauline Cushman, Eva Dugan, Winnie Ruth Judd, sheriff Peter Gabriel and my personal favourite, Pearl Taylor Hart. Miss Hart, a Canadian, robbed a stagecoach in 1899 and, after her mysterious release from the Yuma Territorial Prison, spent the rest of her life ranching near Florence. So much for nice Canadians!
3. Pinal County Courthouse
This is the second Florence courthouse. It was built in 1891 to replace the present McFarland Building. This late Victorian style courthouse was built to impress Washington, D.C. in preparation for statehood. This building is only one of 25 buildings in Florence that are listed on the National Register of Historical Sites. Check out the tower clock over the courthouse. When the building was originally completed, there was not enough money to install a real clock. Instead, workers painted a clock with the perpetual time of 11:44 am.
4. Casa Grande Ruins National Monument
These pueblo ruins are only 11 miles (17 km) from Florence. The "Great House" was constructed around AD 1200 by the Hohokam ("all used up") Indians. The main building is three stories high, 60 feet long and has walls facing the four cardinal directions. Several wall slots and portholes were used to indicate astrological alignment at equinoxes and solstices. A wall surrounded the entire village, with a ball court outside the walls. Buildings were constructed with wood beams and adobe. The Hohokam were desert farmers who built 300 miles of irrigation canals from the Gila and Salt Rivers, growing corn, beans and squash. Their civilization did not last and by AD 1400 the Hohokam had abandoned this site.
5. St. Anthony's Greek Orthodox Monastery
This monastery hardly fits the western culture of Florence, but it is so unique it deserves a visit. In 1995, six monks arrived from Greece to build a monastery eight miles (13 km) south of Florence. Within a decade, 40 monks were following the Cenobitic or common way of life. While living a monastic life, the members have built the monastery, surrounding chapels and elaborate gardens. Visitors are welcome to tour the monastery, but are reminded to dress modestly and appropriately.
RV parks in the area
For RVers, there are three RV parks catering to the 55 age group in the surrounding area: Tierra del Sol, Desert Gardens RV and Rancho Sonora. Instead of spending time in Phoenix, make time for Florence.