Piecing together the past in Florence
Read the fascinating history of a Wild West town
by Maureen McEwan —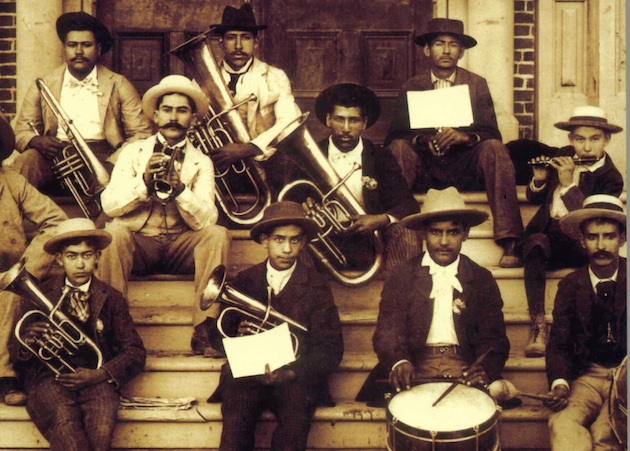 What do you do when you can't find a book on your favourite topic? You write one, of course. And that's exactly what five dedicated women from Florence, Arizona, did when they discovered there was little information on their town's history.
Chris Reid of the Pinal County Historical Society Museum in Florence, along with four of the museum's volunteers–Lynn Smith, Margaret Truman Baker, Louise Clark and Patricia Faux–spent a year gathering historical information and photographs to create a pictorial history book. The result was Florence, a book that is part of Arcadia Publishing's Images of America series.
"We have quite a historical district, with over 100 buildings that are part of the national register," said Reid, who's in charge of research and special projects at the museum. "We were a Wild West town, a rodeo town and a prison town and this is the first complete book with everything in it."
Florence's history dates back to 1866 when the town was founded. By 1875 it was booming, thanks to the discovery of silver and the creation of the Silver King Mine just northeast of town. Florence also became the government seat of the newly formed county that same year, a position which it retains today.
Located halfway between Phoenix and Tucson, Florence is home to approximately 9,000 people.
"Florence is perfect for a day trip," said Reid. "We're a little off the beaten path and we're still a working town, not a tourist trap."
Florence still has many of its first buildings and the original main street still runs through town.
"They're the authentic buildings," said Reid. "They're not re-created and we're not a theme town–they're the real McCoy."
Not surprisingly, Florence has a colourful history, much of which can be seen at the Pinal County Historical Society Museum. Even more history is detailed in the book, which features more than 200 photographs, all carefully chosen to help tell the tales of early Florence.
"Florence had its own shootout between its sheriff and deputy and a lady stage coach robber (Pearl Hart), who was from Canada," said Reid.
Country star Gene Autry had close connections to Florence and several movies have been filmed there. There's a rodeo history as well that dates back to 1932, when local ranchers and farmers started the Florence Junior Parada to raise money for the children's milk fund. Today this rodeo is the oldest sanctioned youth rodeo in the world.
And because Florence is home to eight prisons, there are four courthouses, one of which dates back to 1878. The museum contains some interesting displays that showcase the history of both the prisons and the prisoners.
In addition to the museum, Reid said there are numerous things to see and do in and around Florence.
The Saint Anthony's Greek Orthodox Monastery is located nearly 13 kilometres south of town and was established in 1995. The Casa Grande Ruins national monument is located nearly 15 kilometres west in Coolidge. It became the nation's first archaeological reserve in 1892, then was declared a national monument in 1918. There's a self-guided historic Florence walking tour that highlights 30 original buildings–well worth the walk, particularly if you've read the book Florence first.