Fun for two in Flagstaff, Arizona
This high-altitude city has plenty to keep you entertained on a romantic getaway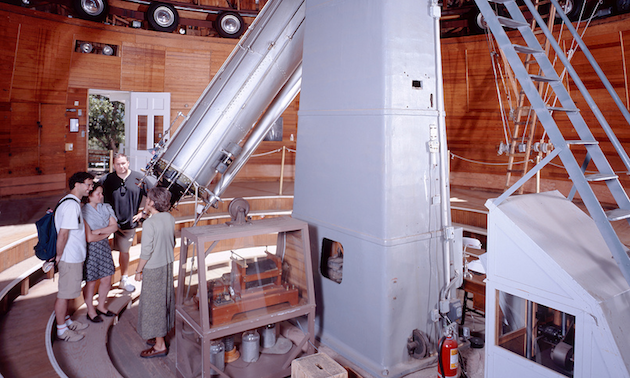 Flagstaff, Arizona, has a magic about it—it has something to do with historic Route 66, Native American folklore and Old West Legacy, perhaps. Or maybe it's the mystery and adventure of the Grand Canyon or abundant ponderosa pine forests. Whatever the draw, at 7,000 feet, Flagstaff is an incredible, four-season destination with plenty of romantic and adventure-filled activities for two.
Lowell Observatory
Contemplate the beauty of the universe and the dark mystery of the night sky at Lowell Observatory. Flagstaff became the first International Dark Skies City in 2001, meaning skywatchers are treated to undisturbed planetary wonder as far as the eye can see. On any clear night, visitors can take in amazing astronomical sights, including the moon's surface, star clusters and the rings of Saturn. Fly through space in the John V. McAllister Space Theatre and wander the new Pluto Walk, a walkway to the famous telescope dome where Pluto was discovered in 1930.
Daily Mars Tours explore Percival Lowell's Clark Telescope, housed in a historic wooden dome and used by Lowell to explore the red planet's surface. Take in the world-famous Rotunda Museum to delve into moon mapping, star studies and the Saturn Lamp—a stained-glass beauty created in 1918 by the Los Angeles Light Company.
For more information call 928-774-3358 to speak to an agent, access 24-hour prerecorded information at 928-233-3211, or visit the website.
Flagstaff Ale Trail
Couples who love the adventure of a wine tour but prefer the barley bubbly can wander the Flagstaff Ale Trail—a delightful trail of some of the finest craft beer breweries in the southwest. Find out if barbecue and grilled meat really can get better with Mother Road's Twin Arrows Brown Ale or discover Sasquatch stout at Flagstaff Brewing Co. Every stop—including Beaver Street Brewery, the Green Room and Hops on Birch—offers up a relaxed atmosphere with a rich, flavourful selection of India pale ales, reds, pilsners and fruit-flavoured specialty brews.
The self-guided tour is less than one mile long through historic downtown and can be completed all at once or over several days. Pick up a Flagstaff Ale Trail package online or at one of the trail locations, and have each location stamped when you stop by to have your souvenir pint glass filled.
Wander historic downtown Flagstaff
A stroll through downtown Flagstaff is the perfect activity for a leisurely afternoon for two. Funky clothing, fine art and jewelry are just a few treasures to discover, followed by lunch, dinner or a quick bite at one of many distinctive restaurants featuring local growers and seasonal menus.
Some must-stop shops are Rainbow's End on San Francisco and Route 66 for unique and beautiful fashion and The Artists Gallery—a co-operative gallery featuring photography, jewelry, painting, textile designs, sculpture and more.
Husband-and-wife owners of the Flagstaff Olive Oil Company have created a simple, unique, educational and fun culinary experience with a tasting gallery of on-tap olive oils and aged balsamic vinegars imported from around the world. Guests can sample the ultra-fresh and healthy treats and create unique flavour pairings. Oils are purchased in small batches and seasonally to ensure ultimate freshness.
Bright Angel Bicycles: Two-wheel fun at the Grand Canyon
There may not be a better way to experience the Grand Canyon than by bicycle. Bright Angel Bicycles is Grand Canyon National Park's first in-park bike rental facility, offering fun, safe, breathtaking tours—guided and self-guided—through many of the park's unbelievable sightseeing areas.
From forested greenways to the shuttle route—which gives bikers access to a restricted area of the park where vehicle traffic is prohibited—there is something for every skill level. The park boasts dozens of scenic outlooks that could never all be taken in by car, as there is simply not enough parking for most people to stop. By bike, however, you can see the canyon at a slower, more enjoyable pace.
The service also helps sustain the park's natural resources and lessens the impact of visitors on the environment. Bright Angel Bicycles provides bikes for rent and will equip you with all the safety gear you need.
Flagstaff Nordic Center
Experience a romantic getaway adventure in the mountains at the Flagstaff Nordic Center, where you can ski, snowshoe or hike to your very own yurt in the forest. Yurts are small cabins—perfect for cozying up for a night away from the RV.
Yurt or hut camping is available year round. In the summertime, mountain bike or hike the trails before settling in for the night in a small yurt equipped with a wood stove and sleeping pads and located at the base of the 35-mile trail system.
Large yurts are situated in a beautiful meadow along the ski trails, where wildlife passes by and outstanding sunsets light up the sky. Large yurts have wood stoves, lighting and two beds. And if gentle roughing it isn't your style, the Nordic centre also has a beautiful Hideaway Cabin with all the comforts of home.
The Flagstaff Nordic Center offers detailed maps of its easy snowshoeing, skiing and biking or hiking trails, and ski lessons for novices.
A romantic evening awaits
Finish any amazing day in Flagstaff with a romantic dinner at Cottage Place Restaurant—voted Best Fine Dining by Arizona Sun readers for many years and highly recommended by locals as the ultimate romantic dinner place.
Exotic dishes prepared by owner and executive chef Frank Branham, combined with an outstanding wine list and the warm, inviting ambience of a fine dining establishment promise an unforgettable evening for two.
For dessert, take a romantic walk to Brookside Chocolates—a unique chocolate and candy store with an indulgent variety of sweets and treats. Top the evening off strolling hand in hand among historic sites in downtown Flagstaff or watch the neighbourhood come to life with romantic lights and live music.