Stop and take it all in
Fernie is an all-round winning destination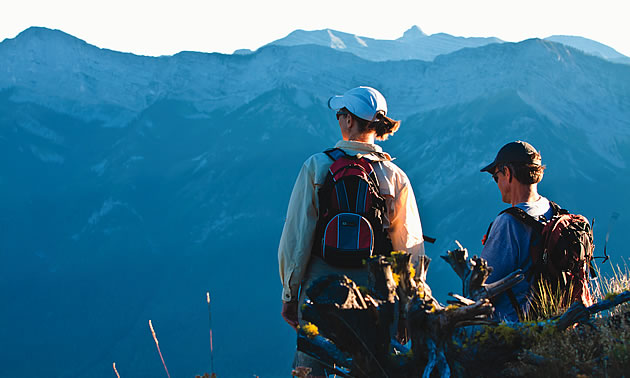 Although Fernie is known primarily as an outdoor adventure destination, there is an array of relaxing experiences that have also put Fernie on the map—from exploring the remarkable history, cruising the cafés or enjoying the spa experience. Don't miss out on one of the province's hottest tourist spots.
The scene downtown
Fernie's historic downtown on Victoria Avenue has been reborn to become "Canada's coolest street." It is lined with turn-of-the-century brick buildings, completely encircled by the Canadian Rocky Mountains and enhanced further with specialty shops, dining and nightlife.
Visitors are continually astounded by the scenery, friendly folk, authenticity, history and storefronts. You can shop for almost anything—from traditionally made chocolate and artisanal cheese, to antiques, goodies from a rare candy shop, toys and local art. Take in some indie films and live music, nibble on tapas and sip on local beer, or relax on café patios and enjoy homemade pasta. You can enjoy a trip to an adventure gear store—spiced with local knowledge—and sample some fine B.C. wines. Fernie's historic Victoria Avenue is a destination in itself.
Every Sunday between Canada Day and Labour Day weekend, Fernie holds its Summer Mountain Market and Downtown Social from 10 a.m. to 2 p.m. You can find homegrown produce, artisan products that are made locally, and other handcrafted treats.
An artistic ambience
The arts and culture sector is alive and well in Fernie, as can be seen by the numerous types of performance and visual art facilities in town. The Arts Station is considered a central point, and it houses the Fernie & District Arts Council. There are concerts and other community events held here, as well as a 100-seat theatre, a craft and painting studio, two art galleries, a pottery studio and a space for workshops and meetings. You can see what is on the schedule during your visit by going to theartsstation.com.
Another artistic focal point is The Fernie Arts Co-op. You can see original pieces created by local artists, including pottery, handmade jewelry, photography, paintings and prints depicting the glorious scenery that surrounds Fernie.
Be sure to come by the City Hall grounds and see the Fernie Miners Walk exhibit that was created in honour of the city's rich mining history.
There's more outdoors
In addition to all the new and adventurous recreation features that are being added, Fernie has some longstanding favourites when it comes to outdoor activities. Whether you take a guided tour or set off on your own, the choices are unlimited.
Island Lake Lodge, just a 20-minute drive from Fernie, provides 7,000 acres of lush B.C. wilderness where you can take guided hikes, stroll at your own pace or ride your bike through the mountains. There are even packages available from the lodge that include a guide for the day's hike, accommodations and delicious gourmet meals.
For water sports enthusiasts, the Fernie area is blessed to have the Elk, the Bull and the Wigwam rivers right near by. You can kayak, canoe, go whitewater rafting or take a leisurely float.