Top things to see and do in Fairmont Hot Springs
This resort area offers obvious top activities as well as some pleasant surprises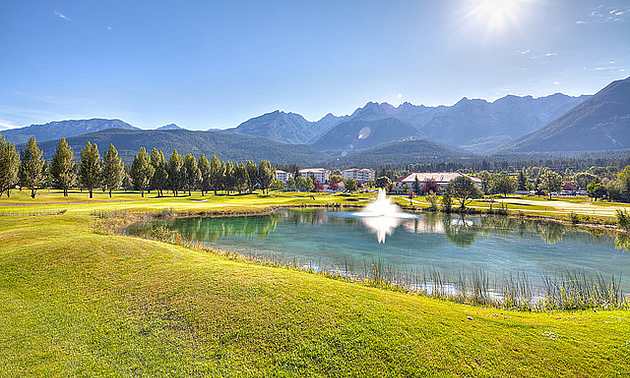 Visitors frequently come to Fairmont Hot Springs to soak their stress away. For most people who spend time there, this will certainly be a highlight. One need not limit their Fairmont Hot Springs experience to the pools, however. There are lots of great choices to help you get out and about.
1) Relax in the hot springs
It goes without saying that a visit to Fairmont Hot Springs will involve some time at, well, the hot springs. These are the largest naturally occurring hot springs in Canada and have the added benefit of being surrounded by the stunning Rocky Mountain and Purcell Mountain ranges. Spend some time relaxing in the therapeutic pools and this will quickly become the common theme of your time in Fairmont Hot Springs. Visit the resort's hot spring page to find out more.
2) Tee off
If golfing is listed as one of your favourite things to do, then Fairmont Hot Springs has plenty of options to keep you swinging. Events are also planned throughout the season, and golf packages are available. For those who would rather go small, there's even a minigolf course. To get an idea of the real courses, stop by the Fairmont Hot Springs Resort golf page and Coy's Par 3 Golf website.
3) Float along
The Fairmont area also offers the opportunity to spend time on the water, as opposed to just in it. Boats are available to rent and canoeing is a very popular option. To really enjoy nature, consider taking a kayak tour. This easy outing will allow you to discover North America's longest continuous wetland. Some of these options are laid out on the resort's water sport webpage.
4) Hike the hoodoos
The hoodoos near Fairmont Hot Springs will be a distinct landmark for anyone who has travelled here. Directions are available if you want to find a way to hike the trail. The view is astounding—just be sure to respect the area and the heights. If you'd like to be guided on a variety of hikes in the area, check with the Fairmont Hot Springs Resort. This is perhaps the top activity to really appreciate the beauty of the area.
5) Dining options
Choose to eat out in Fairmont Hot Springs and you won't be disappointed. From ice cream to fine dining, there's something to suit every taste. Choose carefully and you could enjoy a meal while looking over the hoodoos or at the mountainous scenery. Browse a listing of Fairmont Hot Springs restaurants to get your mouth watering.