Non-stop fun at Fairmont Hot Springs
Fairmont Hot Springs offers a relaxing and rejuvenating experience for visitors
by Lisa Crane —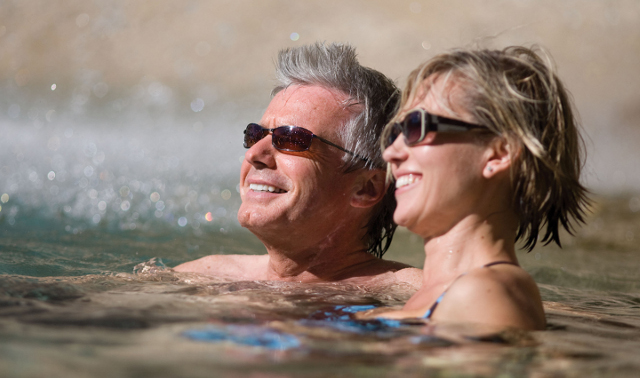 Refreshing, reviving and relaxing—if all that is possible at once—describes the magical mineral waters of Fairmont Hot Springs. The springs—and the small community bearing the same name—lie at the north end of Columbia Lake.
"This beautiful natural area near beaches and mountain trails is perfect to visit for fun and relaxation in the heart of the Columbia Valley," said Marion Garden, marketing manager at Fairmont Hot Springs. "It is home to Fairmont Hot Springs Resort and Canada's largest natural mineral hot springs."
Garden said there are endless activities to be enjoyed here, with golf courses, trails, mountain bike rentals and a children's inflatable playground. Visitors can try minigolf, horseback riding or a spa treatment, and there are numerous dining venues and bars.
She said there are two places to camp in Fairmont Hot Springs.
"The Fairmont Hot Springs Resort's RV Park is adjacent to the mineral hot springs," said Garden. "(It is) located on the slopes of the Rockies and is the highest rated RV park in the Canadian Rockies."
Alongside the Columbia River is Spruce Grove RV Park and Campground. Most of the 172 sites enjoy direct river frontage. This campground is very popular with families and groups, and both RVs and tents are welcome. Garden said the campground has a heated outdoor pool, and it is only a short five-minute drive from the hot springs.
"Crystal clear, odourless and all natural, the mineral hot springs are a popular historical attraction," said Garden. "Renowned for their therapeutic qualities, over 1.5 million gallons of mineral-rich British Columbia hot springs water flows through the pools daily."
Fairmont Hot Springs is surrounded by some amazing lakes, rivers and wetlands. Check out the Adventure Valley website to learn more.