La Galeria ll is art central
This art shop in Fairmont Hot Springs features locally crafted works as well as artisan wares from around the globe
by Lisa Crane —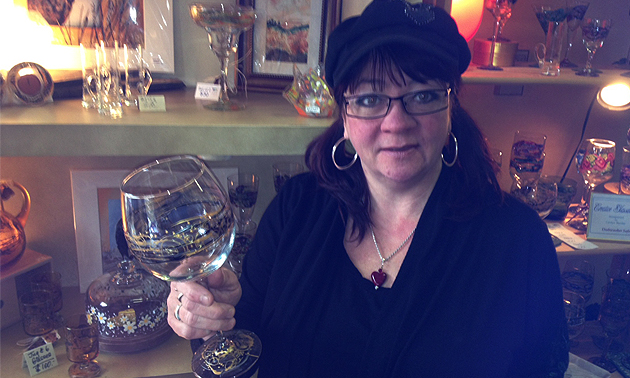 Fairmont Hot Springs, B.C., is home to La Galeria ll, a prominent venue for art in this Columbia Valley town. Owner Carolyn Barzilay, a Fairmont Hot Springs local, has been an artist since kindergarten. She has also been in the Columbia Valley for 25 years, and has been involved with the arts scene for almost as long.
Barzilay bought La Galeria ll in 2010 and hasn't looked back. Her store features her own work as well as that of local artists, and her aim is to carry as much Canadian product as possible.
"When it isn't Canadian, I know where and how it was made," said Barzilay. "I have hand-knitted sweaters from Ecuador and Mexican ceramics."
She said that owning a store full of wonderfully crafted pieces and hands-on creativity is amazing, and that it is incredibly inspiring to know the artists and to be able to promote them.
Barzilay's own talent lies in handpainting glassware. She said she had no idea her pieces would be so popular, and after 11 years, it is a full-time business for her. She is also accomplished in watercolours, but said she rarely has time to paint. Barzilay said she sells one image of her own in her store—and that is on its second run of postcards and prints. The rest of the art in her shop is mostly all local—in fact, often the subject matter of the art is local as well, like the famous hoodoos nearby.
"I have the hoodoos in four different mediums," she said.
Barzilay has been involved with the Village Arts co-op in the neighbouring community of Invermere for over 20 years, and there is no doubt she has her finger on the pulse of the arts scene in the area. She said she couldn't live in a better place than Fairmont Hot Springs, with the mountains in her face every morning. Barzilay loves what she does, and can't wait to share it with everyone, every day.